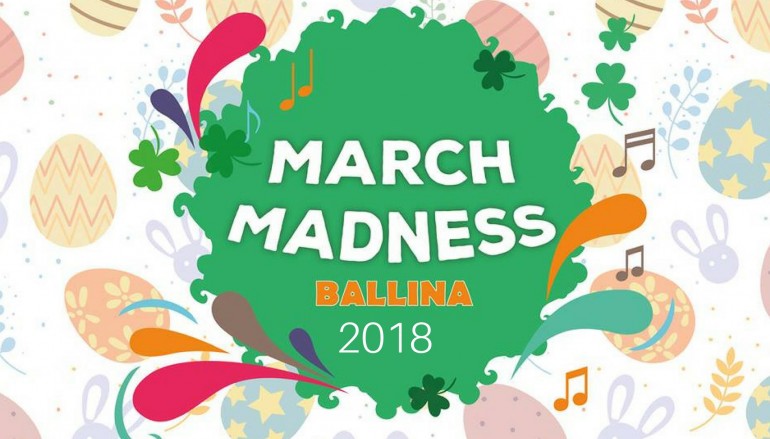 Blast of Colour to light up the Sky in Ballina this Weekend
Annual Parade
Celebrate our great community and join in the Ballina Party from 4pm. Kicking off from Convent Hill, and marching into downtown Ballina, this years parade promises to be as family friendly, fun filled colourful and as exciting as ever, celebrating Ballina's great sporting communities, our well known companies and businesses that supports our town and community.
Come and enjoy the street festival in Ballina where the colourful floats, bands and clowns will entertain both young and old.
The Ballina St Patrick's Day Parade promises to be even more spectacular this year.
Fireworks Display
Ballina Chamber of Commerce are delighted to announce the return of the now annual Fireworks display over the iconic Salmon Weir Bridge from 7pm, following on from the St Patrick's Day parade celebrations (on 18th March) in downtown Ballina, Co Mayo, from 4pm.
Entertainment for the weekend
A Tribute to Thelonious Monk
Venue : Ballina Arts Centre
March 15th @ 8pm
Book tickets  Call (096) 73593
The music of Thelonius Monk is a constant fascination, which has been the subject of renewed focus thanks to his centenary last autumn. His compositions, and his pianistic approach to other people's material, were initially condemned as being too weird (or even incompetent). But musicians like Coleman Hawkins and Dizzy Gillespie immediately saw his value, and he went on to influence the next generation of soloists such as Sonny Rollins and John Coltrane. This evening's programme will include everything from his most simple and singable tunes to compositions that still present a challenge to adventurous performers.
Brian Priestley, though better known as a writer and broadcaster, is an inveterate pianist and a fan of Monk. He'll be joined by former Dublin resident (via Monaghan, North Carolina and Berklee), Tom Caraher on saxophone. Driving the engine will be the hot rhythm-section of Kinvara based Paul O Driscoll on Bass and Limerick drummer John Daly.
LIVE MUSIC IN BALLINA THIS MARCH 
The Loft Bar –  Live Music Friday, Saturday and Sunday Night
The Broken Jug –  Live Music Friday Saturday and Sunday Night
Bar Square & Paddy Macs   –  Live Music all weekend including Monday with Big Generator
Brennan's Lane    – The unmissable P J Duffy  with his Jazz Session  returns this Sunday 18th March at 5.30
Not Forgetting Ireland's Rugby team trying to conquer the Six Nations Grand Slam against England on Saturday 17th March
The Game will be show Live in all Venues .
More information  and a round up of other parade taking place can be see on Mayo North .ie
Related Articles
Read more from Uncategorised