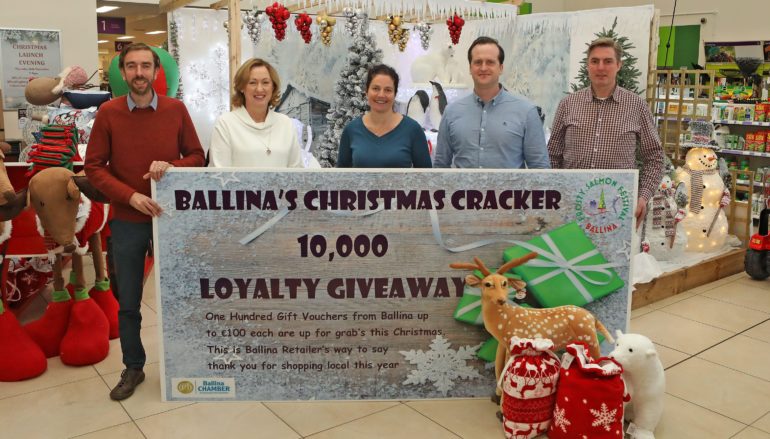 Christmas Cracker Bonanza Draw launched for 6th Year in Ballina.
With €10,000's worth of Vouchers from local businesses including retail, pharmacy, hotels and restaurants up for grabs, this is a fantastic way of supporting your local business while being rewarded for shopping Local.
With 100 envelopes containing a mix of Vouchers, those lucky loyal customers who shop local can win €100 worth of Vouchers to spend in a variety of participating Ballina Businesses throughout the year. Shop Local in Ballina this Christmas and your local business participant will ask you to enter your name onto the Christmas Cracker Draw Cards. The Christmas draws will take place over three dates during the month of December.
Draw Cards will appear in Ballina businesses from Monday 18th November, and the first draw will take place on Friday 6th December, followed by Friday 13th December and final draw on Wednesday 18th December.
Hugh Rouse, President of Ballina Chamber of Commerce states,
"With Irish retailers and suppliers struggling to survive, it is vital that we support our own local enterprises during these difficult times. By buying Irish we secure Irish jobs, by buying locally we keep our local businesses open, we keep jobs in the community, those businesses that support our local sporting clubs and groups are the backbone of our community."
The arrival of Santa Claus to the Jackie Clarke Collection and the switching on of Ballina's spectacular Christmas lights planned for Sunday 24th November signals the start of an extensive programme of festive fun in Ballina for the seventh annual Frosty Salmon Festival running from 24th November until December 31st . The town's annual Christmas festival is designed to celebrate the community and businesses of Ballina, and once again, the "support local" theme runs strongly through the programme.
For further information on all things Frosty Salmon Festival contact Ballina Tourist Office 096 72800 or visit www.ballina.ie
Picture Attached: L-R: Garret Michael of Archers Topline, Maria Carr of the Junction Restaurant, Miriam Caffrey of Caffreys of Caffrey's Gallery Gifts and Framing, Greg Connolly of Ballina Motor Care & Steven Hannick of Primary Solutions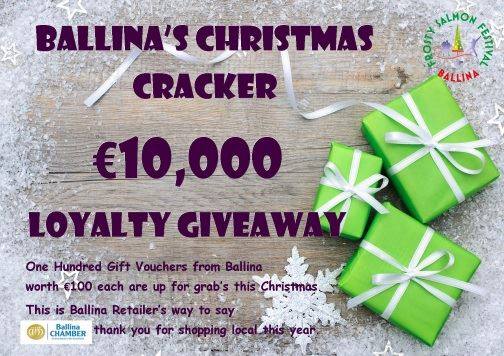 Related Articles
Read more from Uncategorised