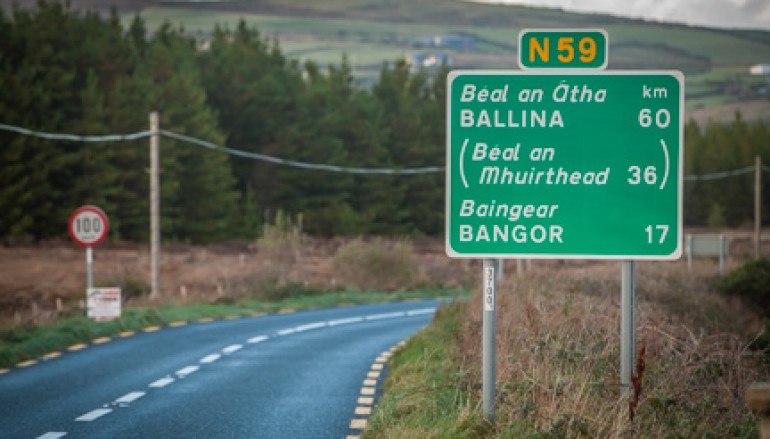 All Roads Lead To Ballina This July
From North ,South, East,West and of course Overseas they travel in their droves to reach One Destination  "Ballina"
Why You May Ask ?
Ballina Salmon Festival of Course running from 9th July  – 16th July 
History of the Festival
Ballina Salmon Festival first took place in Ballina in 1964, and was at the time called the 'Moy Salmon Festival', based on the fact that Ballina was home to one of the best rivers in Ireland, with the best fishing waters and salmon in the country. This is of course the case to this day!
In time, the festival was renamed the 'Ballina Salmon Festival', and today it remains one of the highlights of the summer months in the West of Ireland. Every year over 200,000 people descend on the North Mayo capital to enjoy our fantastic, community-based family-friendly festival.
The Ballina Salmon Festival is particularly proud of its family-centered focus.  One third of the festival's entire programme is dedicated solely to children.
The action-packed programme also includes old favourites like International Evening, Heritage Day, Mardi Gras and the Fireworks Display, along with river-based events like fishing competitions and raft races. New events are introduced annually to keep the festival fresh and exciting.
Schedule of Events
The 2017 festival programme returns with old favourites including the International Night (9th July) National Heritage Day (12th July), busking competition (all days) Mardi Gras and Fireworks Night (15th July) rounding off the eights days with the kiddies favourite event; the teddy Bears Picnic (16th July).
New events include A night at the Proms, (10th July in the Great National Hotel Ballina) bringing together a performance of Ballina's Choirs featuring 230 performers.
A Celebration of traditional Irish Music on Friday (14th July) highlights the well known traditional Irish musical talent in the county, with a trad session to blow the roof of the Military quarter as Ballina's own Flat Out headlines the night, with support from Gort na mBo and other great talented young folk.
County Antrim's talent, country music singer Johnny Brady fly's the Country and Western flag at the C & W night on Thursday 13th July, also playing in the Military Quarter of Ballina.
For the Foodies among you this new event is one not to be missed. Local restaurateur Gerry Luskins of Luskin's Bistro & Wine Bar is one day only, bringing you a pop-up al-fresco dining experience under the canopy in the Military Quarter , Ballina as part of the Ballina Salmon Festival – Mayo. It'll be a lunch to remember.
The Children's Events committee have pulled out all the stops in 2017, with additional music workshops added. Catering for babies as young as 3 months old right up to 4 years of age, music workshop based in the Ballina Arts Centre has sparked the most enquiries to date.  But there is so much more to choose from including circus workshops, Papier Mache workshop, juvenile fishing competitions, treasure hunts, clay modelling, martial arts skills, fun sports day, paddling on the River Moy and good old fashioned fancy dress discos are just some of the events planned for the younger audience!!  What is most special is the return of the Junior Literary Awards, with prize giving for under 13 for short story and poetry competition.
For a Full List of Events Call in The Local Tourist Office on Pearse Street where brochures are on sale also you can log on to http://ballinasalmonfestival.ie/
Would you like to be part of the Festival ?
Stewards play a vital role in helping out during festival week and new volunteers are always welcome! If you can even spare one evening to help us steward an event we'd love to have you. And it's good craic too. A stewards' briefing meeting will take place next Wednesday 5th July at 7:30pm in Ballina Tourist Office – come join us and give something back to your community!
MARDI GRA
Is one of the more spectacular events of Ballina Salmon Festival, infused with colour, enthuasiam, street preforming and samba. A riot of creative colourful energy infused with samba beat, shall fill the busy streets at nightfall and wend it's entertaining way to Victoria Terrace on the banks of the infamous river Moy, where a spectaculor fireworks display will illuminate the skies of Ballina.
For willing participants in MARDIGRAS 2017……..interested.???……give us a call…..0861624540.
Further information on stewarding, and all the events of the festival at Festival Office:
Ballina Salmon Festival Office c/o Ballina Tourist Office, Pearse St, Ballina Contact 096 79814 and full festival information also available at www.ballinasalmonfestival.ie
Have A great festival 2017  #bsf2017
Related Articles
Read more from Uncategorised