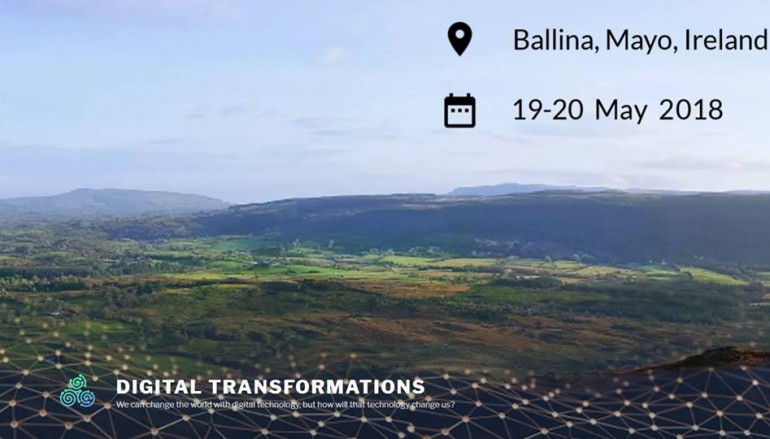 Digital Transformations Conference coming to Ballina
AN EXPLORATION OF CULTURE IN A DIGITAL SOCIETY
Memory, authorship, identity, productivity, privacy and consumption are all changing. The digital society is transforming our traditional relationship to these concepts, enhancing some and alienating others.
Can artists help us navigate and respond to this new reality?
Is society even looking to artists to help make sense of the transformation? Or has the Digital Age moved beyond a need for artists? Are we not all artists now? Are machines and algorithms our artists and arbiters of taste?
How will we find meaning in this brave new world?
Digital Transformations brings together thought leaders in the arts, in business and technology, education and journalism to share their views on the digital society and the meaning and value of the arts in such a society. It is a showcase for artists who have begun to address these issues in both traditional and non-traditional forms.
Find out what the digital society really is from the people that are making it happen.
Meet, listen to and talk with artists who are making the digital society a part of their work.
Find out the ways in which creativity is currency in a digital society.
Explore the future of creativity with artists, journalists, publishers, policy makers, educators and technologists.
Who is this conference for?
The conference is designed to welcome anyone who wants to take a new perspective on the coming digital society.
Anyone who takes an interest in the arts, in creativity, in innovation, and who wants understand the many ways the digital society will affect the lives we lead will come away with new and useful perspectives.
Artists, educators, journalists, curators, content producers, entrepreneurs, and policy-makers will all find something new, interesting and valuable to take away from this conference.
About the organiser
"There's a lot of talk about the impact of Digital Tech in a practical sense (what we can do with VR, 3D printing, digital distribution models, etc.), but very little about the ideas, thoughts, morality and ethics underlying it all. We talk about what we can do with the new tools, but never enough about what the new tools will do to us. Most events that combine arts and technology are essentially business-driven, bringing business language and values into cultural discourse, assuming the business culture is a natural environmental fact." – Scott Coombs, Conference Director
Digital Transformations is a conference bringing together 18 speakers from Ireland, the UK, the Netherlands, Germany and the US, including practicing artists, technologists, leading cultural curators, academics and educators. It is a forum for radical thinking, inspired by the idea that the arts should be leading our transition to this new, profoundly disorienting society – but ironically this new society is one in which art as we know it will struggle to retain its power and influence.
Digital Transformations was conceived by Scott Coombs, an American-born IT Consultant who lives and works in the Northwest. He put the conference together to  "…look at the cultural impacts of the emerging digital society and establish a forum for people to see and react to the big changes in arts, politics and society. ". One of the other organisers, John O'Brien, added "…this conference isn't trying to sell the digital society, but to create an open forum where the value of cultural responses take centre stage. Right now the future is in the hands of the technologists, the pseudo rational and the faux scientific and we really need to talk about this. We need both sides of the brain to deal with what's coming at us."
Digital Transformations is built around talks, panel discussions, and break-out sessions where attendees can get involved in the debate and formulate a manifesto for the future. Evening entertainment will be provided by the ever-popular trio of Seamie O'Dowd, Kieran Quinn and Joe Kelly.
Book Now:
Cost: €120, early registration €80
Chamber's Ireland, Chamber of Commerce Members receive discounted registration fee €70, Book with Mags in Ballina Chamber of Commerce [email protected]  096 72800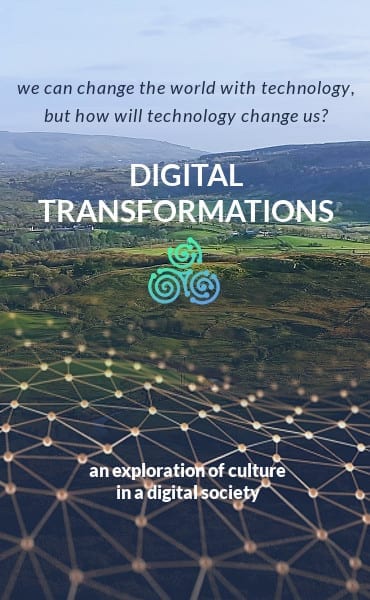 Related Articles
Read more from Uncategorised