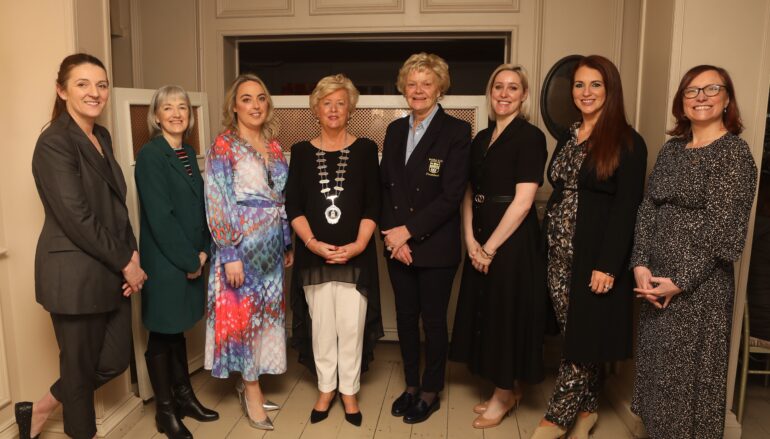 Ballina Chamber celebrates International Women's Day
It was great to welcome everyone back in person for a live event in the beautiful surroundings of The Cot & Cobble Ballina and Ballina Chamber was honoured to have Cathaoirleach of Ballina Municipal District Council, Mayo County Council Annie May Reape officially open 'Ballina's Well Women Community' celebrating International Women's Day, and Network Ireland – Mayo Branch President Edel Kenny welcome our guests.
With thanks to Ballina Chamber CEO Mags Downey Martin for MC'ing the event, for her balance and humour as she and the panel navigated many thought-provoking topics and questions.
With an exceptional panel including ,  
Loretta McDonagh, Director Mayo Rape Crisis Centre ,
Margaret Loftus Rouse, retired member of An Garda Siochana and Domestic Violence Advocate,
Dr. Lisa Ní Chuinnegáin Guthrie, Consultant in Emergency Medicine & Prehospital Doctor,
Deirdre Whyte, First Lady President of Ballina RFC ,
Faith Hogan, Author,
Niamh Ryan, Entrepreneur, Bella Beauty Ballina Ella & Jo Cosmetics
With beautiful musical performances by St Marys Secondary School students Aisling Mullarkey & Hope.
It was the very first in person event planned by the Chamber for what is now becoming an annual event, and the date scheduled just as restrictions were lifted in January with those in attandance grateful the event could go ahead.
'Breaking the Bias' was the theme, but those that attended reflected on the loss of the precious life of Aisling Murphy and paused to remember her and her family.
These inspirational women were so generous with their thoughts and opinions, offering many different perspectives on the theme of #BreakingtheBias as well as offering advice for the future.
Thanks to event sponsor The Cot & Cobble Ballina and all the local businesses that supported the raffle, with monies raised in aid of event charity Mayo Rape Crisis Centre.
Pictures by Corinne Beattie Photography
Thank You to all that attened, with the International Women's Day, 8th March, alreday in the calncer for 2023.
Related Articles
Read more from Uncategorised