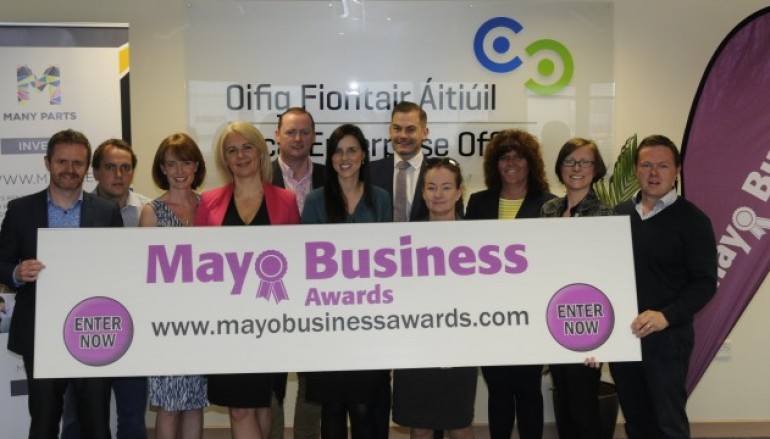 Mayo Business Awards returns in 2016
Once the flagship annual event for businesses across Mayo, the Mayo Business Awards returned last year after an absence of a number of years. The 2015 awards were a huge success and it is hoped that the Mayo Business Awards can go from strength to strength and once again become the highlight of the Mayo Business calendar.
The Mayo Business Awards are a cross community initiative supported by the Mayo Chambers and other local business organisations with the backing of the Local Enterprise Office Mayo and Mayo.ie. It is important that the Mayo Business Awards are seen as a truly countywide occasion as we aim to reach businesses in every corner of County Mayo in order to discover the very best in Mayo Business.
The objective of the Mayo Business Awards is to help businesses grow their networks, lift their profile and open the door to new opportunities and possibilities while also giving local businesses the opportunity to be recognised for their dedication, investment, accomplishments and hard work across several award categories.
Why Enter the 2016 Mayo Business Awards?
The Mayo Business Awards aim to celebrate all businesses in every town and village throughout the county and we encourage all Mayo Businesses to enter to be in with a chance of winning. Entry is free for all categories with no limit to the amount of categories you can enter and the entry process is designed to be as efficient and straightforward as possible. The benefits of the Mayo Business Awards to your business include:
Increased business opportunities
Increased exposure/publicity
Networking opportunities
Recognition of your success
Morale boost for your business & employees
Establish your business as a benchmark for excellence
How to Enter
Nominating a business for the 2016 Mayo Business Awards is free and there is no limit to the amount of categories you enter as long as you meet the criteria. Select the category you wish to enter and fill out the application form. The deadline for entries for this year's Awards will be Friday the 16th September. Independent adjudicators will review each application and will narrow down potential winners in each category. A shortlist of potential winners for each award will be released prior to the Awards ceremony with the winners being announced at a Gala Awards Night at the Twin Trees Hotel Hotel, Ballina on Friday November 4th. Lets get Ballina businesses nominated and Enter the Awards.
Further details about the awards go to Mayo Business Awards  or contact Ballina Chamber of Commerce 096 72800 [email protected]

Related Articles
Read more from Uncategorised