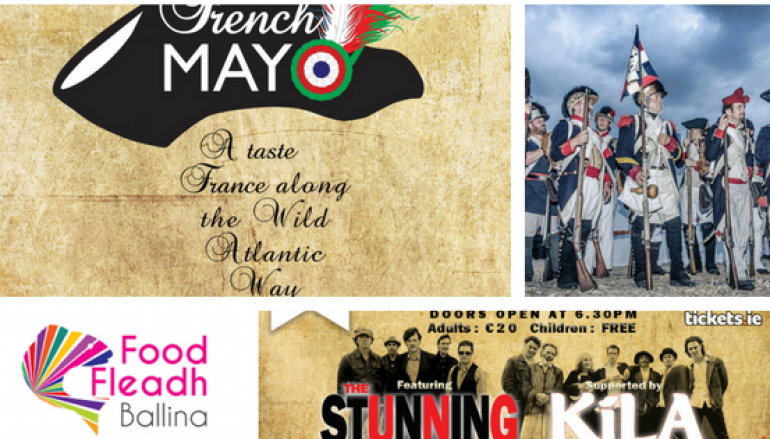 'French Mayo' A Taste of France along the Wild Atlantic Way
The last weekend in August 2016 sees the inaugural "French Mayo" Festival take place in Ballina, Co. Mayo.  With strong flavours of live music, dance, drama and food, French Mayo promises a palate packed with"A Taste of France along the Wild Atlantic Way."
The two-day festival takes place on August 26th-27th 2016, and aims to build on the exclusive historical connection enjoyed by Mayo with France, dating from the landing of General Humbert in Kilcummin, near Killala, in 1798.
The French Mayo Festival, a collaboration between the Ballina Chamber, Mayo North Promotions, Ballina Arts Centre, Jackie Clarke Collection, Mayo.ie will build on Ballina's reputation for arts and culture, showcasing all that is good about both regions through music, food and pageantry.
Highlights of the weekend will include a French-themed pageant in the historic Military Quarter on Friday 26th August, the Ballina Food Fleadh on Saturday 27th August, a traditional music "Session Trail" taking place in the town centre on Saturday afternoon and a big live gig on Saturday night, featuring iconic rockers The Stunning, and Irish folk-rock band Kíla.
Ballina's Newest Outdoor Venue; The Military Barracks
The Military Quarter will be at the heart of this years festivities, and for the very first time, all French Mayo events in the Military Barracks are set to take place under cover in what will be a really unique outdoor space in the West of Ireland. The cover is in the process of being fitted to the Barracks by Mayo County Council and is expected to be a game-changer for events in Ballina.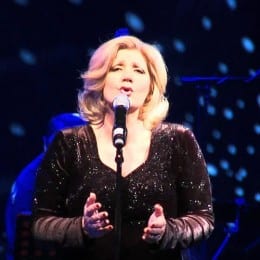 Having preformed at the French Ballina Festival in 2015, French Mayo are delighted to be welcoming Jeanette Byrne for a second year to the Military Barracks.
A long time performer of the French Chanson, Jeannette has a list of performances and recordings to her credit, spanning 20 years. Jeannette first came to prominence with an unknown Jack L when they performed the music of the wonderful Jack Brel as The Black Romantics which culminated in their highly acclaimed album WAX.
Following this Jeannette continued as a solo performer releasing an EP Une Femme, her debut album Elegy and the follow up Café Divawhich all received critical acclaim along with her one woman shows at that time.
In 2011 Jeannette was invited to perform at a large music event in Cannes and set about putting together a great band with Musical Director Derek Cronin. Jeannette received top billing above native French performers, which truly shows her genuine interpretation of this music (her French pedigree can be traced through her maternal grandmother. She grew up listening to this music).
Food Fleadh Ballina returns for a Third Year
Saturday afternoon will see the much-loved Food Fleadh Ballina showcasing the best of Mayo food, with a host of restaurants and artisan producers around the county working together to create a spectacular French-themed food event. Live music will accompany the event. The Food Fleadh is open to all food businesses in Co. Mayo and there are a limited number of places still available.
Trad Session Trail in Ballina Co Mayo
The Food Fleadh will be complimented by a live "Trad Session Trail" taking place in a number of venues in the town centre on the afternoon of Saturday 27th August, where musicians and performers from all around the county and beyond are set to put on a trad extravaganza with music, dance, storytelling and sean-nós.
French Mayo Festival Programme of Events 
Friday August 26th:
6.30pm: Laying of wreaths at the "Maid of Erin" monument on Humbert Street, Ballina
7.30pm: French-themed Pageant Spectacular with music and theatre performances in Ballina Military Quarter
Saturday August 27th:
11am – 5pm: Food Fleadh Ballina Market in the Military Barracks showcasing the very best of Co. Mayo's food and drink offering.  Includes live cookery demos and children's cookery classes.
12pm – 6pm: French Mayo Session Trail – a day of traditional music in a number of venues in Ballina Town Centre. All trad music groups and individuals are welcome to come along and join in the fun!
8pm – late: Live Music on stage in Ballina Military Barracks with The Stunning, Kila and a host of local acts! Tickets €22.50 on sale now from Tickets.ie!
Associated Events during week commencing 22nd August
Jackie Clarke Collection (Tuesday – Sat): Exhibition: 1798 timeline of events in the 'Seomra' in the Community Garden
Ballina Arts Centre: French Film Festival (programme TBC)
Further information on all things French Mayo please contact Ballina Tourist Office 00353 96 72800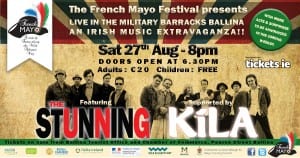 Purchase tickets for The Stunning, Kila and Jeanette Byrne at www.tickets.ie
Related Articles
Read more from Uncategorised