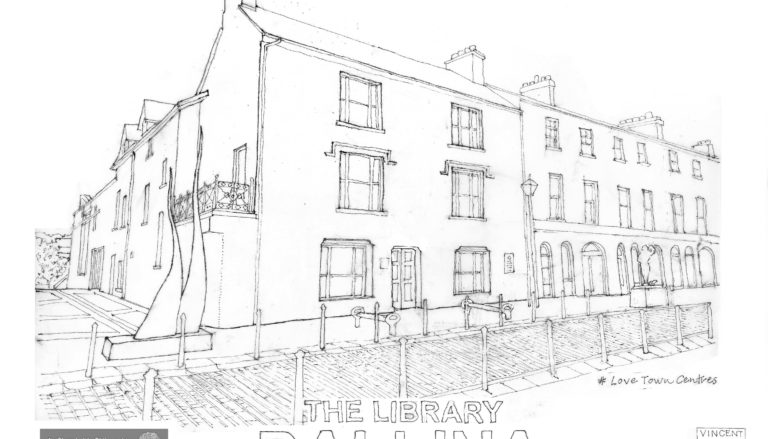 Ireland's Town Centres- Colouring Series for Kids
Ireland's Town Centres have centuries and centuries of heritage in their historic market squares, streets and buildings. The Heritage Council's Colouring in drawings for Kids aim to support these wonderful historic places.
Have you ever walked the streets of Ballina town and noticed the beautiful
architecture of some of the buildings; the beautiful door ways, the shopfront windows? Next time your in town take a look around and observe the rich architecture of the town, as illustrated in its town centre buildings.
The Heritage Council, supported by Mayo County Council and Ballina Chamber of Commerce has launched Colouring in drawings for kids.
Featuring the drawing of The Jackie Clarke Collection, Ballina Pearse St Shopfronts, Ballina Town Library and Ballina Bridge St Garden St Shopfronts, by local artist and architect Vinnie Coleman.
Show the love for your town by taking a picture of your finished colouring in drawings, upload on social media using the hashtag #LoveBallina and #LoveTownCentres or email the picture to [email protected] We'll print them off and display them around the town.
We can't wait to see your colouring in drawings, featuring some of Ballinas beautiful shop fronts! And with €200 worth of Ballina Shop Local Vouchers, for the winning enteries, start colouring in!
Download the Drawings here:
Ballina The Jackie Clarke Collection
Ballina Bridge St Garden St Shopfronts
Remember send them into [email protected] or take a picture and tag it with #LoveBallina #LoveTownCentres


Collaborative Town Centre Health Check Training Programme
You can read more about the Heritage Council's work on town centres, which Ballina participated in here; Collaborative Town Centre Health Check Programme
For more information on this project, email [email protected]
Deirdre Cunningham, Heritage Officer with Mayo County Council at [email protected] or Mags Downey [email protected]
Related Articles
Read more from Uncategorised