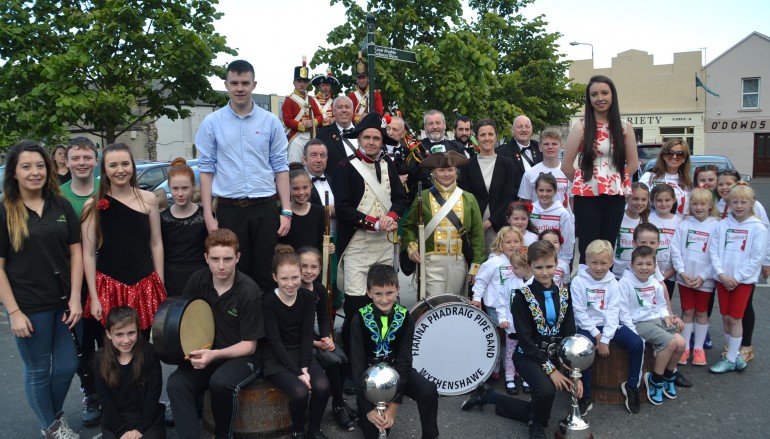 Lord of the Dance star launches 2016 MMTradfest in Ballina
The newly crowned new Lord of the Dance, James Keegan, who has taken over the reigns from Michael Flatley in the worldwide hit show flew into Ballina to launch this year's 2016 Mayo Manchester Tradfest.
He had just finished a tour in Canada, but headed straight to Mayo to join his sister Louise and the performers of the Keegan Academy of Irish Dance at the live two-hour radio broadcast by Midwest Radio to launch this year's 6-day #MMTradfest. James commented to Midwest Radio: "We have been working a long time with Tony and Lawrence Hennigan, and I wanted to come along to show my support for the festival and the performers in the Academy I run with Louise. It's great to be dancing on the streets of Ballina."
Other VIPs in attendance were Alan Keegan from Manchester United Football Club, who travelled halfway round the world to make the launch. Alan had travelled straight from Beijing where he was on tour with the football club on their pre-season tour. When asked about why he had travelled such a long distance he replied: "I would not have missed it for the world. It's great to be in Ballina for what promises to be a great celebration of Irish music, song and dance. It is great to see the cultural and business links between Manchester and Mayo continuing to develop and flourish – long may it continue."
"
Alan had travelled over to host the VIP launch party at Bar Square on Friday 29 July in Ballina, which was officially launched by Senator Michelle Mulherin. The group was joined by Ballina TD, Dara Calleary and a host of Councillors and members of the Ballina Chamber and Mayo North Promotions Office. The party outside Bar Square was joined by Stephen Dunford's soldiers from the Humbert's Landing re-enactment, which is also taking place in North Mayo during the bank holiday weekend. The launch party featured a live two-hour broadcast by Midwest Radio and a host of award winning performers including The Fianna Phadraig Pipe Band and the Keegan Academy of Irish Dance from Manchester. Performers from Mayo included Sean Nós Dancers Tommy Stenson and Laura Ganley, the Atlantic Rhythm Production company and Pamela Gilmartin.
Tony Hennigan from Mayo Manchester added: "It was a great launch night followed by a sell-out concert at the Ballina Arts Centre and a whole host of great events. It has been non-stop with the performers playing at least two events per day – we even managed to squeeze in the packed out Attymass Gathering launch concert on Thursday 28 July. The numbers have far exceeded our expectations. All the hotels and accommodation in Ballina are completely full, and we have over 60 fringe events in the pubs in and around Ballina. There is a huge buzz around the town."
The six-day Mayo Manchester Festival runs from Friday 29 July to Wednesday 3 August and is staged in and around Ballina. There are ten main events and over 60 fringe events involving over 500 performers, making it one of the biggest traditional Irish Music, Song and Dance events in Mayo since the Fleadh Cheoil was staged in Ballina in 1997.
Events still to take place this week include:
Monday 1 August, 12 noon
Mayo Manchester stage a 'Taste of Mayo Manchester' and Tradfest at the Bonniconlon show. The Tourism and Business group have joined forces with Mayo.ie, Mayo North and the Show to stage a special event in the giant Failte Ireland 'Wild Atlantic Way Marquee'. The event will feature Food and Drink companies from Mayo and Manchester together with a charity fashion show and Tradfest performances and is being filmed by Irish TV.
Monday 1 August , 7pm
Mayo Manchester Tradfest Concert at Kilkelly Heritage Day in Kilkelly, free admission
Tuesday 2 August, 2.30pm
Mayo Manchester Tradfest free concert at Siamsa Sraide in Swinford
Tuesday 2 August, 7pm
Mayo Manchester Free Tradfest Concert in J.P. Leonards in Lahardane,
Wednesday 3 Agust, 8pm
Ceili Country Cottage show and Mayo Manchester Closing Concert in Enniscoe House in Crossmolina
For more information visit www.mayomanchester.com
Related Articles
Read more from Uncategorised