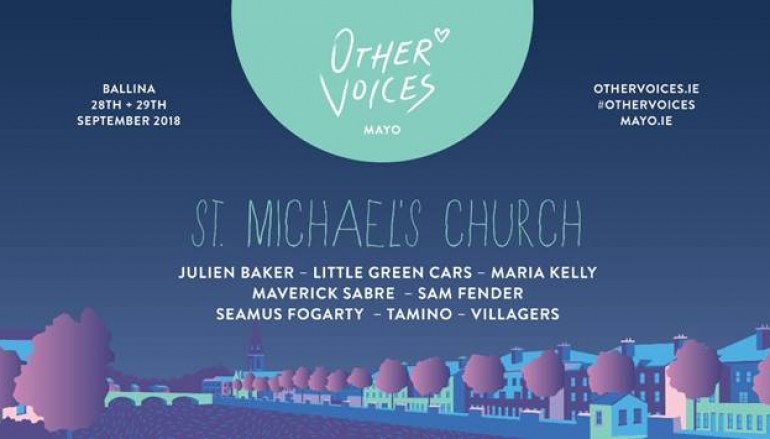 Maverick Sabre & Sam Fender added to live TV recording line-up at Other Voices Ballina 2018
Other Voices Ballina 2018 September 28th& 29th, Ballina, Co. Mayo
Festival Registration now open on Eventbrite. Other Voices Festival Hub launches in Ballina.
Music Trail adds 22 more acts including
Mango x Mathman, Girlfriend, The Kerbs, I Have A Tribe, Waldorf and Cannon, Heroes in Hiding, LemonCello, Toucan, Karms and Cult Called Man.
Church Live Streaming to Music Trail venues confirmed.
Other Voices & This Greedy Pig announce After Dark Ballina.
#OtherVoices #OtherVoicesBallina
Other Voices Ballina announces two more additions to the live TV recordings – the internationally acclaimed Wexford-London soul singer/rapper Maverick Sabre and BBC Sounds of 2018, UK singer songwriter Sam Fender. The eclectic mix of Irish and international acts will perform in the Mayo town on September 28th and 29th, with Maverick Sabre and Sam Fender joining Villagers, Little Green Cars, Tamino, Julien Baker, Seamus Fogarty and Maria Kelly at St. Michael's over the Festival weekend. The free tickets for the live TV recordings at the Church continue to be featured in giveaways at local and national media and on Other Voices and local partners social media, all listed at www.othervoices.ie
Registration for the Festival is now open at https://www.eventbrite.ie/e/other-voices-mayo-music-trail-tickets-49288838242
All those planning to attend Other Voices Ballina should register for free in advance and exchange tickets for Festival wristbands at the Other Voices Ballina Hub from 10am 'til late on Friday September 28th and Saturday September 29th. All festival goers who collect wristbands from The Hub will have the opportunity to win a multitude of great prizes including tickets to St. Michael's Church, signed Other Voices Ballina posters, Other Voices merchandise, dinners at the Cot & Cobble and The Broken Jug, hampers from An Sean Sibin and lots more. Entry to all Music Trail events is on a first come, first served basis. The Other Voices Hub is now open on O'Rahilly Street and will be running from Wednesday to Saturday every week, right through to the Festival, with all the up to date Festival information, featuring art exhibitions, live gigs, DJ sets and more.
 Ballina Music Trail feature  Mayo's Own Local Voices
In Local Voices, the Other Voices Music Trail has swollen substantially with a whopping 22 new acts confirmed for free gigs throughout Ballina on September 28th and 29th. Mayo's burgeoning wealth of diverse music talent is underscored with the addition of Foxford's finest, alt-rockers The Kerbs, Achill Island singer songwriter Graham Sweeney, piano-laden, quirky pop from Mayo-born/Dublin based Laura Ryder and wave-making Westport hip-hop poet Uppbeat. Joining the line-up are Dublin hip-hop-grime trailblazers Mango x Mathman, Waterford funk-popsters Toucan and indie pop singer-songwriter, Belfast's Peter J McCauley. Soak up the rootsy harmonies of Kildare's LemonCello, ambient pop from Dublin's ZaPho, the soul-folk sounds of Belfast songsmith Owen Lamont and the thundering indie-rock of Dublin's Karms.
Mayo bound revellers are in for an audio feast with the rich folk-pop of Dublin's I Have A Tribe, the neo-classical complexities of Clare's Paddy Mulcahy, dreamy folk by Derry's Reevah, new-age art rock from Dublin's Cult Called Man and the hook laden alt riffs of Derry/Donegal duo Waldorf and Cannon. Also featuring on the eclectic line-up will be Dublin indie-punk band Girlfriend, experimental electronica with Belfast's Rebekah Fitch, Galway born ethereal cellist Naomi Berrill, alt-electronica from Dubliners Heroes in Hiding, atmospheric tunes by Stephen Tiernan aka Participant from Dublin, and Royal Yellow from Wicklow, the new experimental offering from Enemies frontman Mark O'Brien.
Local Bars hosts Ballina Music Trail
The series of free concerts will take place in the following venues and the full day to day line-up will be announced the week of the Festival: An Bolg Bui, Ballina Presbyterian Church, Bar Square, Breathnach's, Brennan's Lane, Dillon's Courtyard, Harrison's, Paddy Macs, An Sean Sibin, The Broken Jug, The Cott & Cobble, The Loft and Vincy's Bar. With limited audience capacity for the TV recordings, Other Voices have confirmed that all performances from St. Michael's Church will be live streamed to the Music Trail venues across Ballina.
After Dark Party
After the roaring success of After Dark's first outing in Dingle last December, Other Voices are delighted to be teaming up with resident buzzers This Greedy Pig for another instalment of 'After Dark'- a party that kicks on in to the wee small hours after things wrap in St. Michael's Church, on Friday and Saturday night, at Shore 59. A stellar line-up of selectors will be announced shortly. Tickets are limited and priced €10 plus booking fee and available now on Eventbrite at: https://www.eventbrite.ie/e/after-dark-ballina-tickets-49953297658
Other Voices Ballina 2018 is made possible with the support and partnership of Mayo County Council, Mayo.ie, Ballina Chamber, Mayo North, Ballina.ie, Creative Ireland, Wild Atlantic Way, Coca Cola, Ballina Arts Centre, The Jackie Clarke Collection, Music Generation Mayo and Core Music Hub.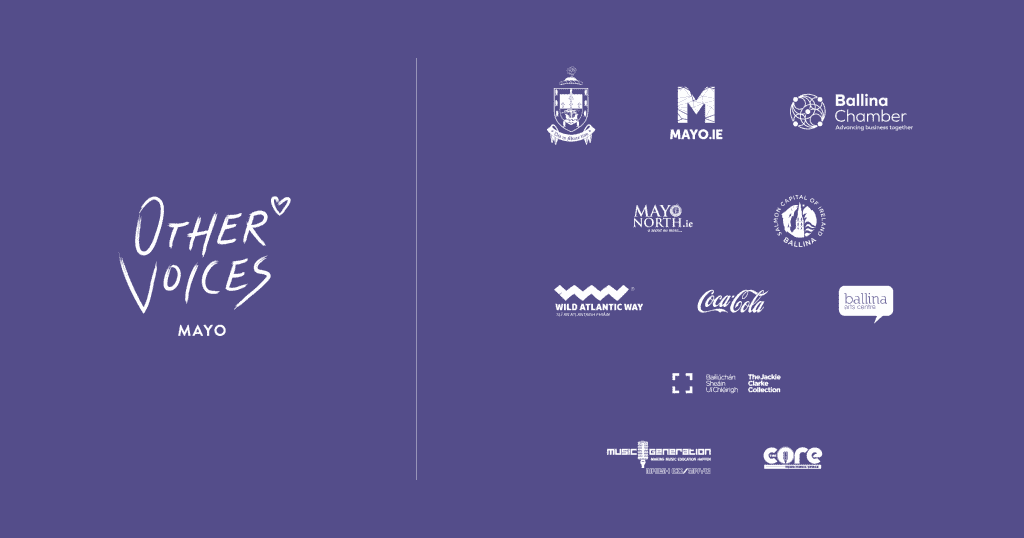 Related Articles
Read more from Uncategorised