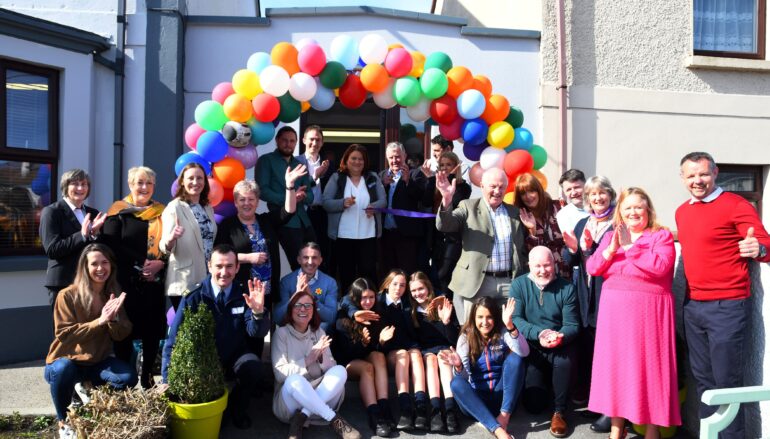 Mayo Mental Health Association annoucne opening of new Information Centre in Ballina.
Mayo Mental Health Association are delighted to announce the opening of their new Information Centre, located in Bohernasup, Ballina to support the North Mayo region.
The official launch for the new centre took on Friday 25th March and was joined by Midwest Radio and a plethora of guest speakers on the day, providing information on the services provided by the information centre, including Niall Dunne Manager MMHA, Tony O'Boyle Director MMHA, Charlie Meehan, Manager Mental Health Services, Dara Calleary TD, Alan Dillon TD, Tracey Glacken President Ballina Chamber of Commerce and Mags Downey Martin, CEO Ballina Chamber.
Mayo Mental Health Association (MMHA) is the vital link in the promotion of positive mental health throughout the county and that message was delivered in no uncertain terms when the association launched its new awareness campaign this week.
Mayo Mental Health Association was founded in 1970 at a time when St Mary's Hospital in Castlebar was home to more than 1,000 in-patients. Much of the perception of the mentally ill at that time was of persons to be feared, but that has changed dramatically and now MMHA is at the forefront of that change through their Information Centre, Social Housing, School's Education Programme, Health Promotion and Volunteerism.
Four Pillars of Mayo MHA
Information Centre
Social Housing
School's Education Programme
Health Promotion
The Information Centre
provides a signposting service for people in the community experiencing mental health difficulties or require options for members of their family and this is done through the association's directory of services.
Mayo Mental Health Association offer an outreach counselling service to the community with a 24–48-hour turn around.
For more information, please visit our website www.mayomha.ie or call Ballina 096 71492 or Castlebar Office 094 903 8148
School's Education program,
The Association promotes mental well-being and awareness programs in both primary and Post Primary schools across Mayo
Mindout the evidence-based Social and Emotional Learning programme was first developed in 2004 with the aim of supporting the social, emotional, and mental wellbeing of young people aged 15–18 years in post-primary schools.
Mayo Mental Health Association manages and coordinates the rollout and provides one to one support to teachers delivering the programme at local level from the organisation.
MindOut is a joint project in partnership with Mental Health Ireland, Mayo Mental Health Association and Mindspace Mayo in partnership with the HSE and the National University of Ireland, Galway (NUIG).
The timely roll out of this programme aims to support the mental health and wellbeing of students and equip them with skills and coping strategies to manage current challenges in their lives, not least those resulting from the Covid-19 pandemic.
"Breathe" was set up in 2013 to promote, participate and facilitate mental health awareness and well-being for students in an interactive format. This programme currently involves 24 Secondary Schools and engages with up to 10,500 pupils across the county. Both initiatives have proven to be very successful across the county.
Health Promotion and Volunteerism
Initiatives which the Association are involved in include Community Partnership programmes with the HSE, Mayo GAA (Moving your Mind) and the FAI, Community Partners such as The Woodlands for Health along with facilitation of other peer support groups and training
For more information, please visit the Mayo Mental Health Association website www.mayomha.ie or call the office on 094 (90) 38148
Social Housing
A highly effective MMHA rehousing project has been in operation for the past 40 years. Currently in partnership with the HSE, St Vincent de Paul and the County Council, the association provides good quality accommodation for more than 40 residents across Mayo.Q
Chairman, PJ Murphy is aware of the role played by Mayo Mental Health Association in that change within he count and the work of their organisation plays within the county.
"Thankfully, there now is a far greater appreciation of the need for all of us to focus on the importance of maintaining a mentally-healthy lifestyle and I'm delighted to say that Mayo Mental Health Association is the vital link that facilitates this."
His words were echoed by Niall Dunne Manager.
"Right now, it's very important that we all work together to promote positive mental health because together we will make a big difference. We hope we will support the people in North Mayo and trust that they will support our work within their communities. Your mental health belongs to you, mind it, share but above all, don't hide it."
Jenna Walsh, health promotion officer in MMHA, says "It is great to see such a wonderful service arriving in the town of Ballina and to have the opportunity to work within all Health Promotion settings across North Mayo.''
To find out more information about Mayo Mental Health Association, check out their website www.mayomha.ie, and follow them on Facebook, Twitter, LinkedIn and Instagram at @mayomha.
For more information please contact:
Niall DunneMayo Mental Health Association │Manager
E: [email protected]T Castlebar: 094 903 8148 T Ballina: 096 71492
Related Articles
Read more from News