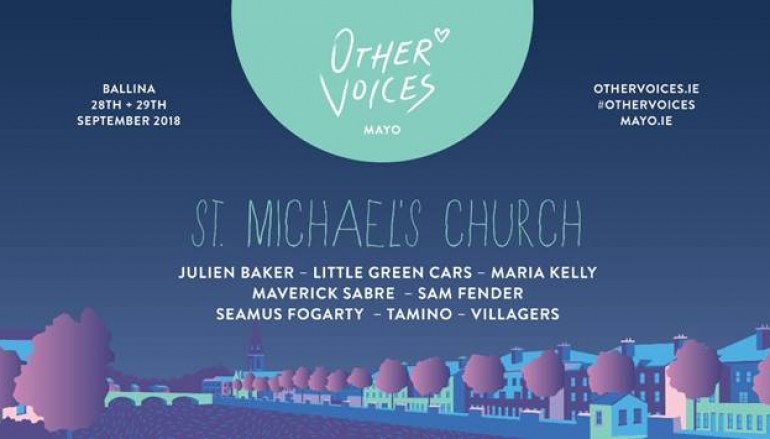 Other Voices Ballina along the Wild Atlantic way
On Friday September 28th and Saturday September 29th, 2018, the vibrant town of Ballina in Co. Mayo will provide a stunning backdrop to Other Voices, the internationally acclaimed music television series and arts festival, which has travelled countless roads over the past 17 years. From Dingle to Derry, New York to Belfast, Texas to London, Berlin and beyond, Ballina joins the global network of towns and cities that map the rich and diverse musical journey of Other Voices. At the end of September, the Mayo town will host story, conversation and debate, a weekend of live music, creative partnerships and diverse discussions with artists and speakers from across the world.
The Other Voices TV recordings will take place in the 225-year old St. Michael's Church in the heart of Ballina, while the Other Voices Music Trail will run across a multitude of venues, bars, pubs and clubs throughout the town. Ireland's Edge Ballina, an extension of Ireland's Edge, the renowned annual culture and creativity conference, will be a mixture of debate, performance and discussion that aims to contribute to the positioning of Ireland, particularly rural Ireland, as a viable, dynamic location and environment for world leading developments in creative technology industries.
Irish and international acts will perform in the Mayo town on September 28th and 29th, with Maverick Sabre and Sam Fender joining Villagers, Little Green Cars, Tamino, Julien Baker, Seamus Fogarty and Maria Kelly at St. Michael's over the Festival weekend. The free tickets for the live TV recordings at the Church continue to be featured in giveaways at local and national media and on Other Voices and local partners social media, all listed below.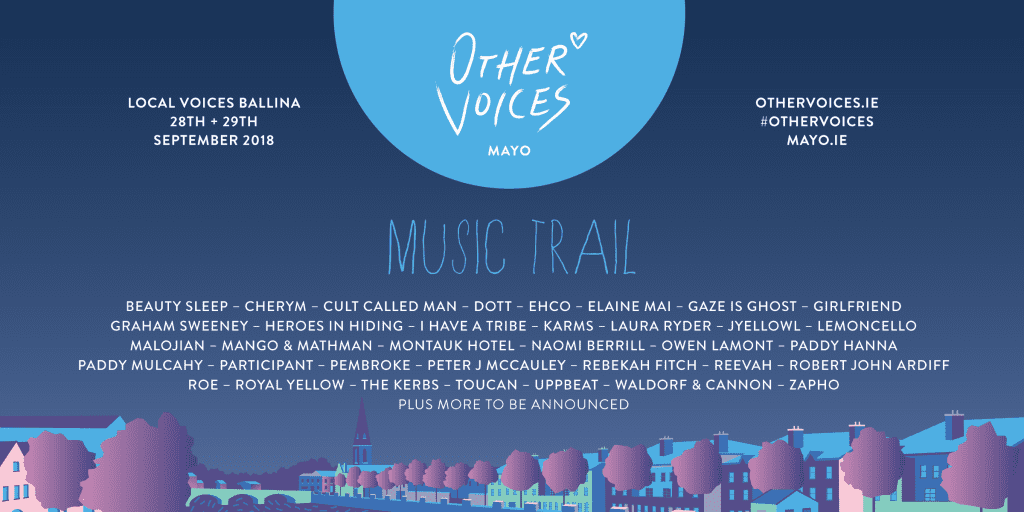 The Other Voices Ballina Music Trail will feature more than 35 free gigs taking place in various venues across Ballina over the Other Voices Festival Weekend. The Local Voices Music Trail will feature an exciting and diverse line-up of performers, musicians, bands and DJs, plying their wares across the pubs and venues of Ballina on September 28th and 29th.
Ballina Music Trail venues include An Sean Shebeen, T. Breathnach's Bar, The Broken Jug, Bolg Bui, Vincy's Bar, Harrison's Bar, Bar Square, Brennan's Lane, Paddy Macs, Dillon's Bar, The Loft and The Cot & Cobble,
35 CONFIRMED ARTISTS 
Mayo's burgeoning wealth of diverse music talent is underscored with the addition of Foxford's finest, alt-rockers The Kerbs, Achill Island singer songwriter Graham Sweeney, piano-laden, quirky pop from Mayo-born/Dublin based Laura Ryder and wave-making Westport hip-hop poet Uppbeat. Joining the line-up are Dublin hip-hop-grime trailblazers Mango x Mathman, Waterford funk-popsters Toucan and indie pop singer-songwriter, Belfast's Peter J McCauley.
Soak up the rootsy harmonies of Kildare's LemonCello, ambient pop from Dublin's ZaPho, the soul-folk sounds of Belfast songsmith Owen Lamont and the thundering indie-rock of Dublin's Karms. Mayo bound revellers are in for an audio feast with the rich folk-pop of Dublin's I Have A Tribe, the neo-classical complexities of Clare's Paddy Mulcahy, dreamy folk by Derry's Reevah, new-age art rock from Dublin's Cult Called Man and the hook laden alt riffs of Derry/Donegal duo Waldorf and Cannon.
Also featuring on the eclectic line-up will be Dublin indie-punk band Girlfriend, experimental electronica with Belfast's Rebekah Fitch, Galway born ethereal cellist Naomi Berrill, alt-electronica from Dubliners Heroes in Hiding, atmospheric tunes by Stephen Tiernan aka Participant from Dublin, and Royal Yellow from Wicklow, the new experimental offering from Enemies frontman Mark O'Brien.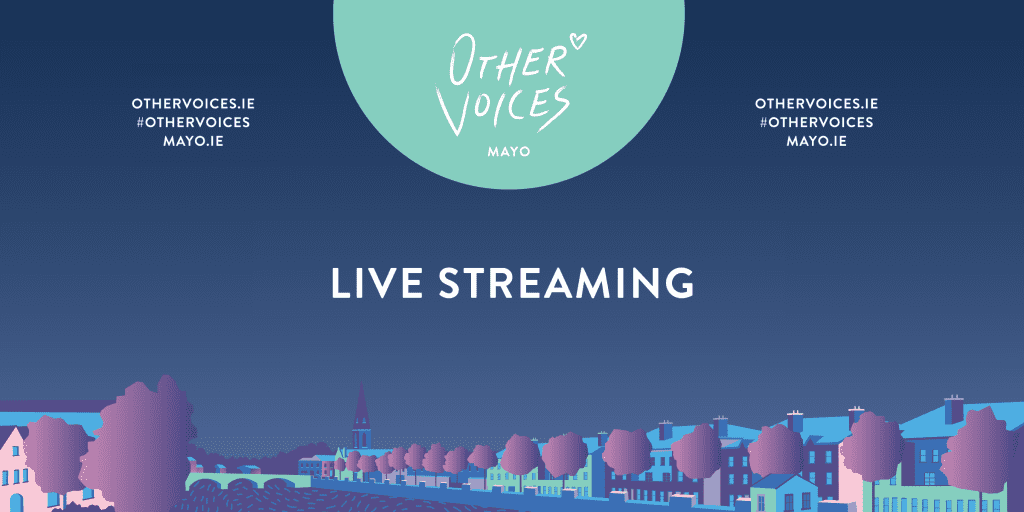 With limited audience capacity for the TV recordings, Other Voices have confirmed that all performances from St. Michael's Church will be live streamed to the Music Trail venues across Ballina.
The Other Voices Hub is now open on O'Rahilly Street and will be running from Wednesday to Saturday every week, right through to the Festival, with all the up to date Festival information, featuring art exhibitions, live gigs, DJ sets and more. All those planning to attend Other Voices Ballina should register for free in advance and exchange tickets for Festival wristbands at the Other Voices Ballina Hub from noon 'til eight on Friday September 28th and Saturday September 29th.
RESIGRATION FOR THE MUSIC TRAIL IS NOW OPEN: 
https://www.eventbrite.ie/e/other-voices-mayo-music-trail-tickets-49288838242
All festival goers who collect wristbands from The Hub will have the opportunity to win a multitude of great prizes including tickets to St. Michael's Church, signed Other Voices Ballina posters, Other Voices merchandise, dinners at The Cot & Cobble and The Broken Jug, hampers from An Sean Sibin and lots more. Entry to all Music Trail events is on a first come, first served basis.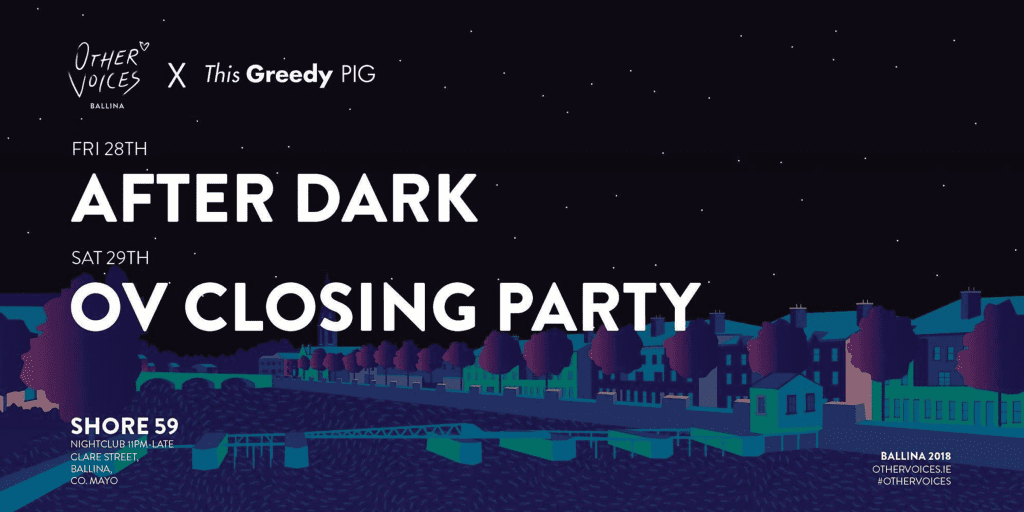 After the roaring success of After Dark's first outing in Dingle last December, Other Voices are delighted to be teaming up with resident buzzers This Greedy Pig for another instalment of 'After Dark'- a party that kicks on in to the wee small hours after things wrap in St. Michael's Church, on Friday and Saturday night, at Shore 59.
A stellar line-up of selectors will be announced shortly. Tickets are limited and priced €10 plus booking fee and available now on Eventbrite at:
https://www.eventbrite.ie/e/after-dark-ballina-tickets-49953297658'
Accommodation over the Other Voices Weekend
Seeking Accommodation over the weekend of Other Voices Ballina ? Check out our accommodation availability by clicking on this link Other Voices Ballina Accommodation.
Local Voices Ballina: Creative Series
As part of the build up to Other Voices in Ballina, Local Voices is two days of seminars, talks and conversation at Ballina Arts Centre beginning Wed 26th Sept and will have many speakers over the 2 days.  This two day event is free and based on a first come first served basis.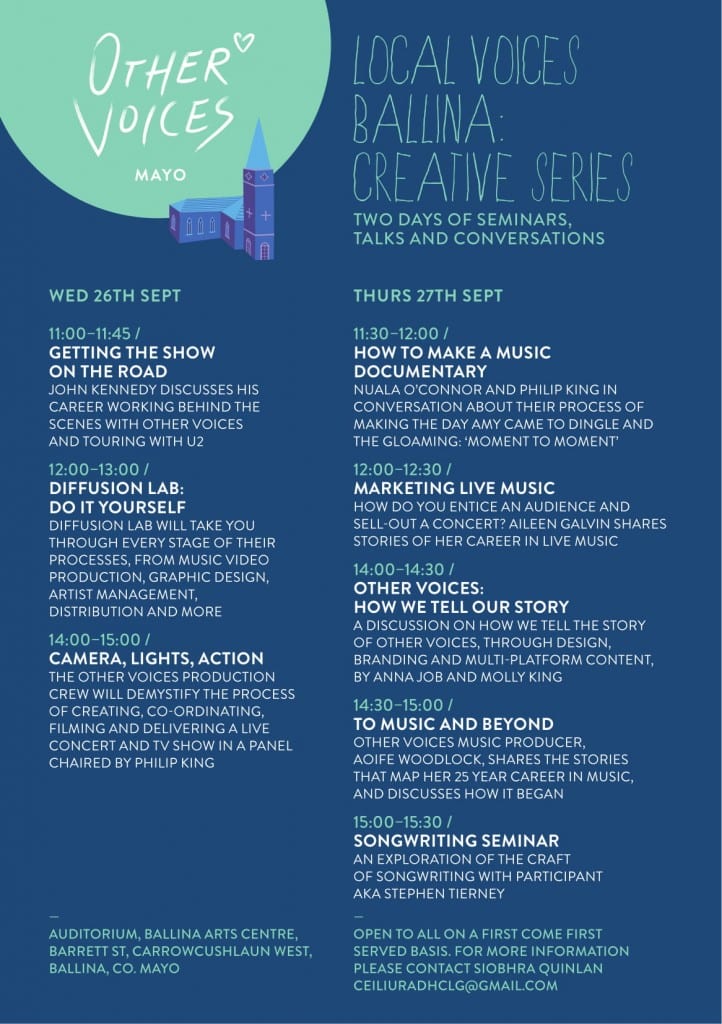 Want a ticket for the live gig in St Michaels Church? Keep updated on all the competitions at www.othervoices.ie/content/other-voices-ballina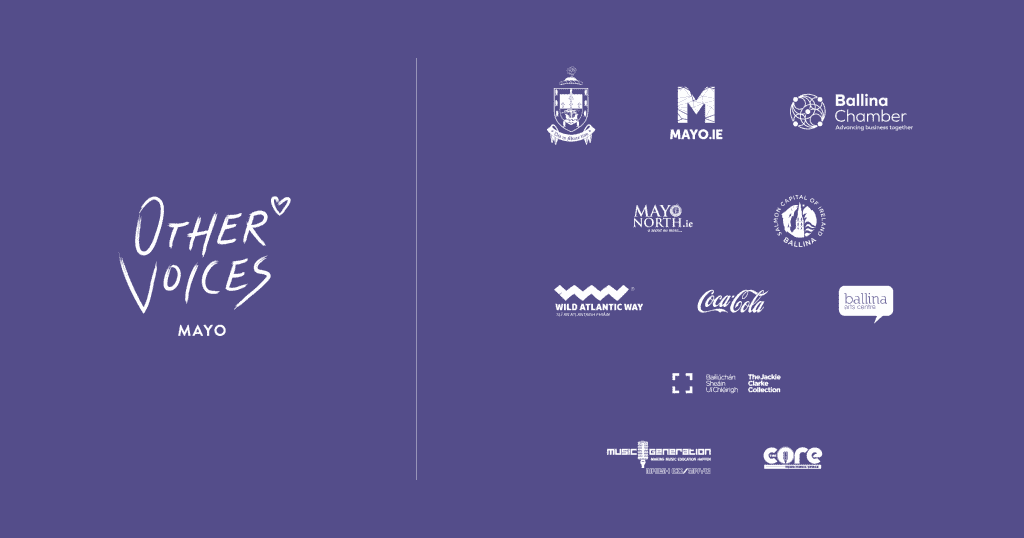 Related Articles
Read more from News