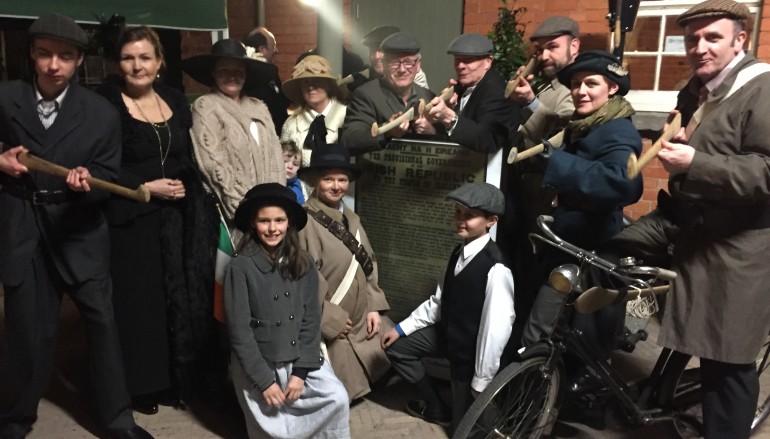 Rising! at the Jackie Clarke Collection
A huge crowd packed into the courtyard of the Jackie Clarke Collection in Ballina on Wednesday 23rd March for the  launch of 'Rising! – An Exhibition of the 1916 Rising'.
In attendance were Helen Litton, the grand-niece of Edward Daly, and James (Seamus) Lenin Maidment, the grandson of signatory James Connolly, and the event marked the start of Mayo's 1916 commemoration programme.
This fascinting exhibition represents what has been described at the largest and most important collection of items related to the 1916 rising outside the capital, and within it an area is devoted to each of the signatories of the Proclamation. It includes a letter written by Padraig Pearse, Thomas Clarke's bible, newspapers from the era, medals and a number of rare photographs.
The exhibition also includes a gripping audio-visual presentation of the Easter Rising, using the newspapers of the time to present the unfolding story. The role of women is also celebrated, and of course, at the heart of the exhibition is Jackie Clarke's "Holy Grail", an original 1916 Proclamation, stored in the former bank vault and narrated by actor Stephen Rea. A rare 1917 Proclamation is also on display.
Highlights of the launch event included James Lenin Maidment reading aloud from the Proclamation, a moment referred to afterwards by Jackie Clarke Collection Manager Edel Golden as "a little moment of history". JCC staff member Martina Neary read aloud WB Yeats' poem, "1916" by in a powerful and touching gesture to mark the first anniversary of the death of Jackie Clarke's wife, the late Anne Clarke. In what was a lovely touch, Edel Golden paid tribute to the local businesses who contributed to the success of the event, and indeed the contributions of local businesses to the success of the Collection as a whole. The event was complemented by music from local traditional music group the Bofield Ceili Band, refreshments provided by Ballina Manor Hotel and the attendance of the costumed Humbert Heritage Group.
If you're from the area and haven't yet visited the Jackie Clarke Collection, it really is a must-see, particularly with all the commemoration events that will be unfolding over the next few months. It's free, it's a lovely way to pass an hour and there is also a beautiful walled garden – a little oasis in the centre of busy Ballina – in which to stop and relax for a while. If you don't believe us, just check out the rave reviews it has been getting on Tripadvisor from visitors all over the world!
Related Articles
Read more from News