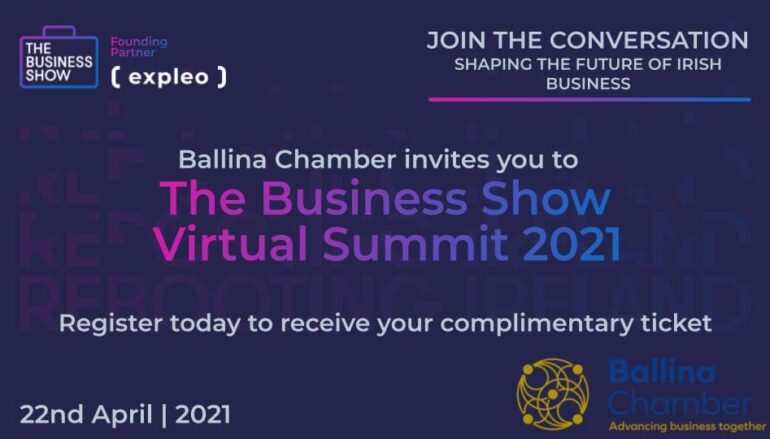 Shaping the Future of Irish Business: The Business Show 2021 launches online
Business experts come together to provide solutions to Irish businesses feeling the impact of COVID-19
IRELAND: Ireland's leading business summit, The Business Show, will take place virtually on 22nd of April 2021. The theme of this year's event is Rebooting Ireland, Shaping the Future of Irish Business, with a primary focus on Leadership & Agility, Entrepreneurship, Workforce Evolution, Brexit, and economic recovery.
This prestigious virtual event will bring together award-winning business leaders, policy makers, international investors, founders, politicians and entrepreneurs, to propose innovative ideas to help the revival of Irish businesses from the challenges faced during the COVID-19 pandemic.
Leaders will share their stories of grit and resilience shown to navigate and lead their workforces over the last 12 months and prepare for the future.

The Business Show Virtual Summit provides a unique digital platform for Irish business leaders and C-suite level execs and their community to engage in solutions-based discussions aimed at building resilience in Ireland's Enterprise and SME sector. Over 2,000 domestic and international delegates are expected to attend virtually, to gain an opportunity to engage with 50 established corporate leaders across all digital platforms.

Keynote speakers at this year's event include:
● Professor of Immunology at Trinity College Dublin – Luke O' Neill
● Group Chief Executive Officer, Bank of Ireland – Francesca McDonagh
● CEO and Co-Founder of Kinzen – Mark Little
● Partner of Draper Esprit plc – Nicola McClafferty
● UK Department of Trade – Minister of State for Trade Policy – Rt Hon Greg Hands MP
● Chairman & Chief Advisor of Thiel Advisors Inc. – Fred Thiel
● CEO of Ibec – Danny McCoy

According to the CSO's Business Impact of COVID-19 Survey, nearly one in four enterprises (23.9%) had ceased trading temporarily or permanently by May last year. Research carried out by InterTradeIreland indicates that more than half of Ireland's businesses were in decline last year following COVID-19 lockdowns. Despite these challenging times, Enterprise Ireland
reveals that Ireland ranks sixth globally among the countries responding best in terms of innovation during the COVID-19 pandemic. The Business Show 2021 will highlight Irish businesses that have thrived in difficult times while offering advice to a broad range of businesses from local enterprises to SMEs.
Attendees at the virtual summit will experience a virtual auditorium with two stages, an exhibition hall, information booth, and a state-of-the-art networking lounge. Experts will exclusively share their visions and unique insights on business resilience and continuity, digital transformation, financial planning and funding, future of work, innovation, international
expansion, and sustainability, among others.
The Business Show is hosted in partnership with Expleo and Electric Ireland. The event is organised by the Dublin Tech Summit team. Tickets can be found by clicking HERE.
Log in details will be provided on registration for The Business Show Virtual Event. Speaking about the launch event, Phil Codd, Managing Director of Expleo Ireland said:
"Being a founding partner of the Business Show's Rebooting Ireland series is a further illustration of Expleo's unwavering commitment to helping enterprises across the island of Ireland navigate the post-pandemic transition with a renewed sense of clarity and confidence.
As we edge closer to the next normal, Expleo wants to play an active role in guiding the strategies of businesses, particularly when it comes to future-proofing operations with robust digital transformation initiatives. We are proud to be working alongside a community of like-minded businesses in a collaborative and forward thinking environment."

Speaking about the event, Tracey Carney, Managing Director of the Business & Finance Media Group said: "With Irish businesses continuing to face challenges across the board due to Covid-19 and the impact of Brexit, this year we have brought together a wide range of experts from international industry and politics, healthcare and tech, who will provide practical advice and solutions to help navigate through the unchartered times and prepare for the future. With a strong emphasis on leadership, agility and resilience, we want to help Industry owners develop viable strategies when re-shaping their business for the future".
To find out more about the event visit thebusinessshowireland.com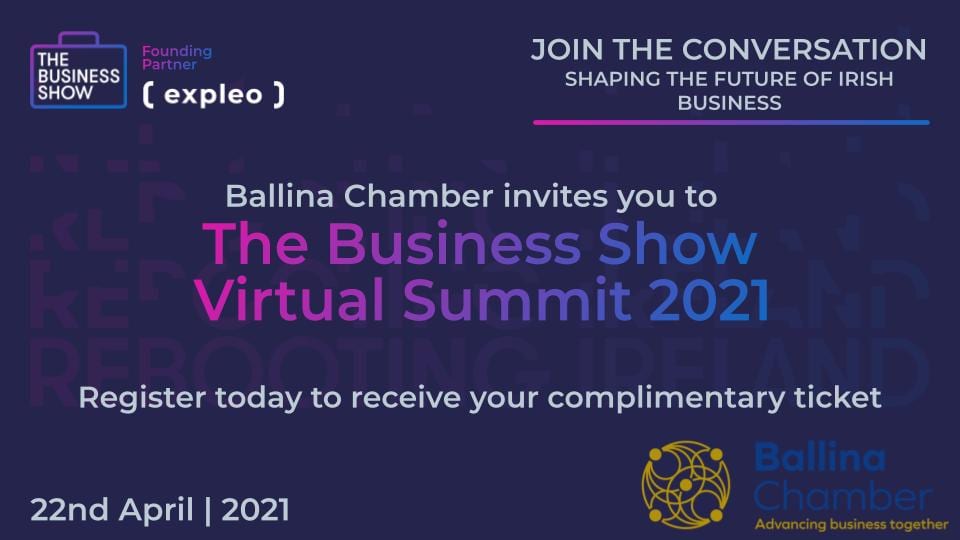 Related Articles
Read more from Uncategorised