All kinds of Everything this Summer in Ballina
With summer school holidays only round the corner, and hoping the weather stays good, there is all kinds of Summer Camps planned to suit your Child, in Ballina this July and August.
1. Kellogg's Cúl Camp are running two camps in Ballina this July and August.
From the 4th – 8th July first Cúl camp kicks of at Ballina Stephenites returning to Ardnaree Sarsfields from the 1st – 5th August.  (Click on both or either Clubs to book your Camp).
2.  Ballina Costume Company's 'Creative Activities for All Ages' Camp starts Monday 4th – 8th July.
Venue: Sean Duffy Centre, Ardnaree
Time: 9.30am to 3pm
Price: €60 per child, Reduction of €5 for each additional child per family.
Contact: 096 72154 | [email protected]
3.  Ballina Adventure & Activity Camp starts Mon 4th – 8th July and Mon 11th – 15th July. Ages 5-13 years. Lots of Sports, Art, Dance, Gymnastics, Table Tennis, water games, GAA.
Venue: Quay National School
Time: 10am – 3pm
Price: €60 per child/€50 for additional family member, Daily drop in €20 per day.
Contact: 087 6789136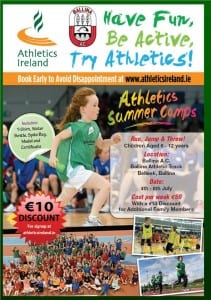 4. Athletics Ireland Summer Camps; Ballina AC's summer camp runs from 4th-  8th July. Giving children the chance to try a whole range of fun athletic activities such  as sprinting, javelin, hurdles, shot put, long jump, relays.
Venue: Ballina Athletic Club,
Time: 10am – 2pm
Price: €50 per child with a €10 discount for a second child.
Contact: For further information log onto www.athleticsireland.ie/clubs/summercamps
5. All Kinds of Everything at Nadia Gym; Wk 1. 11-15 Jul. Wk 2. 25-29 Jul. Wk 3. 2-5 Aug. Wk 4. 8-12 Aug.
Venue; Nadia Gym, Ardnaree
Time: 10am – 3pm 10am-12pm (Pre-school option)
Price: €65 Full week, €45 3 Day week (Mon, Wed, Fri) €55 Week 3 (4Days) €35 Pree school option. €10 Discount for child doing 2 Full weeks, 50% Discount for 3rd Child in Family.
Contact: 096 71001 | [email protected]
6. Nadia Gymnastics Camp; Wk 1. 4 – 8 July. Wk 2. 18 – 22 July.
Venue; Nadia Gym, Ardnaree
Time: 10am – 3pm, Pre school 10am – 12pm
Price: €65 Full week, €45 3 Day week, €35 pre-school. €10 discount on child doing 2 weeks, 50% 3rd child in family.
Contact: 096 71001 | [email protected]
7. Lets Go Summer Camps; 11th- 15th July. Multi Activity Summer Camp. Ages 5-13 years.
Venue: Scoil Phadraig N.S
Time: 9am – 3pm
Price: €90 1st Child, €75 2nd Child, €60 3rd Child
Contact: 021 4877111 | [email protected] | www.letsgo.ie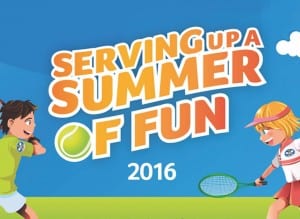 8. Parks Tennis Summer Camps; 4th – 29th July
Venue: Ballina Convent Courts (Mornings) & Ballina Tennis Club (Afternoons)
Price: €30 per child/€50 per family
Contact: Vincent 096 21795/087 2906545 (Convent Courts) Janis 089 4423131 (Tennis Club)
9. Summer Camp | North West Boxing Academy: 25th – 29th July. Ages 6-12 years. Boxing, football, basketball, arts and crafts
Venue: Ballina Leisure Centre
Price: €65 per child, €60 Early bird Special before 22nd June, Discount for 2 or more family members
Time: 10am – 2.30pm
Contact: Ciaran 086 0862542 | [email protected]
10. Little Dragons Summer Camp: 25th – 29th July. Ages 5-12 years. Self defence, Japanese Culture, Kick boxing & Boxing skills, Martial Arts Games for fun, Movie times.
Venue: Unit 2, Killala Rd, Ballina.
Price: €50 for 1 child €90 for 2 family, rates apply.
Time: 10am – 2pm
Contact: 086 3792787 / www.facebook.com/moyvalleyfreestyle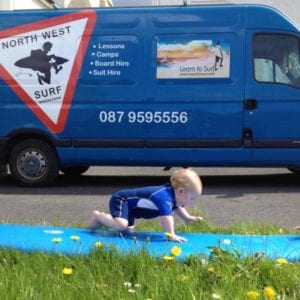 11. Summer Surf Camps in Enniscrone: Every week (Monday to  Friday) from mid June until the end of August. Age 8 years up and must  be able to swim.
Venue: Enniscrone Beach
Price: All equipment needed included, €100
Time: 11:00 – 13:00 or 15:00 – 17:00.  Arrive 30 min early for fitting of wetsuits. Family discount: Pay full for one child and get 10% discount for their brothers or sisters. Max 8 students per instructor. Spaces are limited!
Contact: North West Surf School, 087 9595556 [email protected]
12. Twin Trees Leisure Club Kids Summer Camps; 4-8 July, 18-22 July, 25-29 July, 2-5 Aug, 8-12 Aug, 15-19 Aug. Ages 4-12 years. Swimming, Arts and Crafts, Treasure Hunts, Face painting.
Venue: Twin Trees Hotel Leisure Club (Formerly Downhill House Hotel)
Price: €11 Daily
Time: 10.30am – 2.30pm
Contact: 096 72813

13. Connacht Rugby Summer Camps; 1-5 August. The camps are  open to all levels of rugby, and no experience is required. Coaches are  fully qualified and vetted members of staff.
Venue: Ballina RFC
Price:€80 per child
Time: 9.30am to 2pm
Contact: Click on Ballina RFC to Book your place. Further Info at community.connachtrugby.ie/
14. Danceblast Ballina Summer Camp; 18-22nd July in Ballina, with camps happening all over the county. Ages 5-16 years, keep fit and enjoy the summer sounds with hip hop, contemporary,  break dance and lots of fun!
Venue:
Price: €55
Time: 10am – 2pm
Contact: Ciara on: 086 846 3682
15. Ballina Salmon Festival, 13th – 17th July. Daily kiddies activities and events planned throughout the Festival days.
For further Information on Children events planned during the festival click on Ballina Salmon Festival
16. Summer Stars reading programme at Ballina Library, Sign-up from June 23, read six books over the summer, write a book review and receive a presentation of certificates in September/October.‪ Further information Barbara Varley, Librarian, Pearse Street, Ballina, Co. Mayo, +353 (0)96 70833 [email protected]
17. Early Years Music Camps, 4th – 8th July, for younger musicians in a fun and noisy environment!
Venue: Ballina Family Resource Centre, Abbey St, Ballina
Price: €35 | 11am-12.30pm daily, (4-6Yrs).  €20 | 1.30-2.30pm daily, Parent & Toddler Session
Contact: Bookings/Info: 09490 24188 / www.musicgenerationmayo.ie
18. DanceWorld Another Level, 18th-22nd July. Ages 7-14 years, Boys and Girls, FREE Camp T-Shirt, disco party, showcase on last day of camp.
Price: €55 per child (Danceworld Student €50) Family Discount available
Time: 10am-3pm daily
Contact: 087 2035460 https://www.facebook.com/danceworld.anotherlevel
19. Student Enterprise Bootcamp
This years' Student Enterprise Bootcamp will take place in Ballina from Monday July 25th until Friday July 29th from 10.00am – 3.00pm each day.  This interactive boot camp is aimed at secondary school students, aged 12-18 years, who have aspirations of becoming the next Mark Zuckerberg or "Happy Pear", famed twins David and Stephen Flynn. This fun 4 day camp aims to encourage the participant's entrepreneurial spirit through a series of interactive and challenging activities.
For more details please contact Jacqueline on 096 70905.  This camp is free for participants –just a €20 refundable deposit is required to secure your place.
20. Moy Archery Summer Camp,  Breaffy, Ballina. Age 7 to 15 years
Date: Wednesday 13th July, Every Wednesday for 6 Weeks
Time: 2 -3.30pm
Price: €50 payable on booking Booking is essential
Contact: Tom: 087 699 0490 Email: [email protected] Moy Archery facebook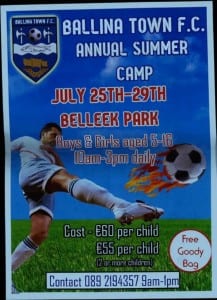 21. Ballina Town FC Annual Summer Camp, Ages 5-16 years
Date: Jul 25th – 29th
Where: Belleek Park, Ballina
Time: 10am-3pm
Cost €60 – €55 (2 or more children)
Contact: 089 2194357
22. KAYAK Camps with Paddle & Pedal,   8yrs-14yrs
Date: Monday August 8th,9th & 10th, 10am to 12:30pm.
Location: The Quay, Ballina,Co.Mayo
Participants will learn all the skills to paddle a kayak in complete safety and experience awesome adventures
along the way. Our instructors are all Canoeing Ireland qualified and have lots of experience. 
Cost €65 per child  BOOK NOW
List complied by Ballina Tourist Office, Information supplied by organisers of each named camp event. Further information please contact each individual organiser to confirm event details.
This is only a taster of planned Summer camps in Ballina in July and August, if you have further details about a camp please email us details [email protected]
Related Articles
Read more from Uncategorised