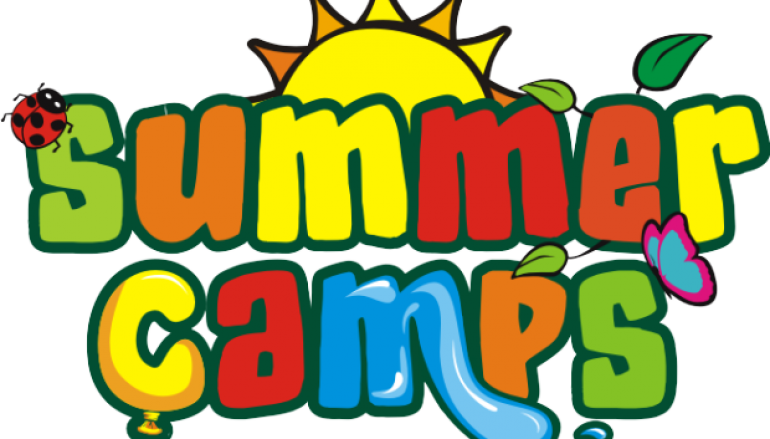 Summer Camps in Ballina Along The Wild Atlantic Way
The Sunny Season is upon us which only means one thing  "Schools out " , What to do with the Kiddies ?
Ballina has a huge variety of Camps to suit all Tastes from Football to Sciences and the wonderful Song and Dance .
Ballina Costume Children's Summer Craft Camp
Dates  2nd July – 6th July
Time: 9.30-3.00
Venue: Sean Duffy Centre Ardnaree
Age: 5 – 11
Cost: €60 per child
Booking is essential
Camp Two for the older kids.
Time 10.00 – 3.00
Dater: 23rd – 27th July
Cost. €60 per child
Age : 12 plus
Venue: Jackie Clarke Collection
Contact (096) 72154 to book
Our new Coding & Technology summer camps launched in Swinford 4th – 8th July (almost full)
Breaffy National School, Ballina 18th – 22th July & St Patrick's National School, Castlebar 25th-29th July. To book call Declan on 0879176292 or email [email protected] for more information go to www.iWonder.ie
Learn the Science of Bubbles
Design and Launch Water Rockets
Create Fun Engineering Project
Ballina Stephnites   2nd July – 6th July 10am – 2.30 pm Contact Barry Murphy 087 6258721
Football – Hurling – Rounder's
Ardnaree Sarsfields   30th July – 3rd Aug 10am – 2 .30 pm Contact Sean Lynch  087 2887402
Or book on line https://www.kelloggsculcamps.gaa.ie/booking/online/
SUMMER CAMP dates are as follows
These are 3 Day camps for children in July and teenagers in June who have an interest in cooking and baking.
Age 13 – 17 yrs
Mon 11th June – Wed 13th June
10am – 1 pm
Age 8 – 12 yrs
Mon 9th July – Wed 11th July
10.30 am – 1pm
Age 8 – 12 yrs
Mon 16th July – 18th july
10.30 am – 1pm
Contact 087 207 6171 for more details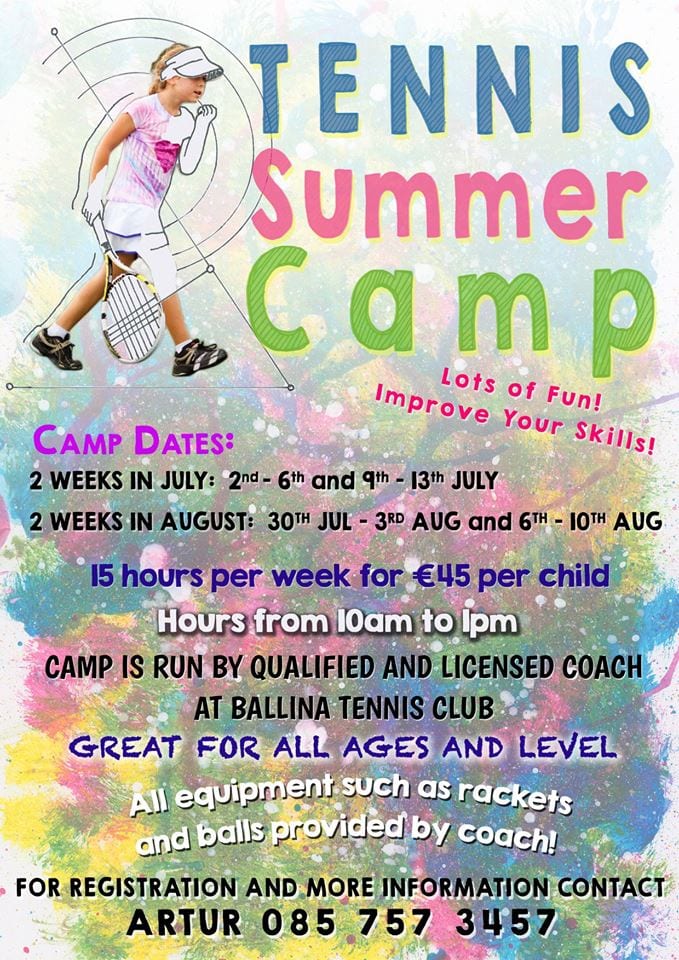 Hosted by Centre Stage Vocal Academy
Dates 23rd July – 27th July 10am – 2pm
Mary Poppins Summer camp for national school kids 5 to 12yrs. Learn the songs dances and junior script to this iconic musical. Great fun including wide range of creative skills. €55 per student family discounts available
Contact Centre Stage Vocal Academy 087 641 8073
**Recreational Summer Camps 2018***
Places are offered to members only until June 9th. Any remaining places will be offered to the public.
Enquires  096 71001
Email [email protected]
Summer camp details 2018:
Multi activity camps & all day gymnastics camps 

Taking bookings now
Contact Lorraine 085 1652062
Ballina Town summer Camp
23 July – 27 July  10am -2pm
Our annual summer camp will take place w/c July 23rd. A fantastic week guaranteed with our great coaches . Soccer Ball and prizes for all. Price : E65 with family discount available
Contact Club for more details
Educating kids to change the world 
This summer, RINKA camps are ramping up kids knowledge of their bodies and the impact of healthy food!
At the end of camp everyone will know:
the name and location of their major muscles

‍♀️how to demonstrate a stretch for each of those muscles

 the benefits of eating fresh fruit and veg

 all about calcium for strong bones and teeth

 the importance of drinking water and how it helps our bodies
Alongside our usual high energy activities the kids will be learning about food by creating Calcium Creatures, tasting healthy smoothies and growing their own veg pots to name a few 
They will also be building a set of lungs, creating arm x-rays and taking apart skeletons 
These are summer camps you don't want to miss out on!!!!
Contact  087 402 2199
Ballina August 7th – 11th St Marys Sec School
STARCAMP – THE SUMMER CAMP THAT THE WHOLE COUNTRY IS TALKING ABOUT!
SUMMER CAMP GAMES – SING – DANCE – ACT – ARTS & CRAFTS – CONFIDENCE BUILDING – FUN & LAUGHTER – DISNEY CLASSICS – SUPERHERO MASTERCLASSES – CHART TOPPERS –  DRAMA – MAKE NEW FRIENDS – NEWS & WEATHER REPORTING – FRIDAY FINALE SHOW – SURPRISES GALORE – MUCH MORE!
STARCAMP began 10 years ago and was born out of a desire that its founders, Aideen & Paul had to instil children with self-esteem and confidence through performance, fun & games! STARCAMP has grown and changed every year to ensure that it remains the most positive, fun and mind-blowing camp that it is known to be. It has the perfect balance of games and activities with the performing arts to ensure that children have the optimum fun while growing in confidence in front of our eyes!
STARCAMP has the highest return of children to it's camps each year.
STARCAMP is for children aged 4-12. Almost 40% of ourchildren are boys and we have advancing games, workshops and routines for older children.
Whether  born for the stage or the shy less confident type – we will bring out the very best in each child for who they are in an extremely happy, safe and nurturing environment.
STARCAMP has won numerous awards, has a proven track record and has an outstanding reputation that is completely untouched.
STARCAMP is known for its' incredible success on DRAGONS' DEN and Aideen O'Grady is a regular panelist on TV3 while also contributing to radio and press media.
Our incredible STARCAMP staff are our most valuable asset! All are garda vetted and go through rigorous training to reach the high standard required to be part of our team. Many are with us for years and were selected for their warm and nurturing nature aswell as their experience with children and in the arts.
STARCAMP – AN ABSOLUTE MUST for your child. Book your Summer camp place today ONLINE or CALL US us on 021-4377900!
WE LOVE CHILDREN AND WE WANT THEM TO LOVE THEMSELVES!
The STARCAMP Ethos: To build children's confidence and self-esteem through performance, fun & games. Every Child loves to sing and dance – this is their opportunity in the best possible atmosphere!
Book online   http://starcamp.ie/summer-camps/
Danceblast SUMMER CAMPS!!
BALLINA 
☀️ FOXFORD 
☀️ CROSSMOLINA
Dancing
Singing 
Acting
Fun and games
Arts and crafts
…and much much more!
Ages 4-18 (groups divided according to age)
We have limited places left in each of the camps so please register now. Book your spot by clicking this link:
Martial Arts 'Little Dragons' Summer Camp
which is very popular for 5-12 age group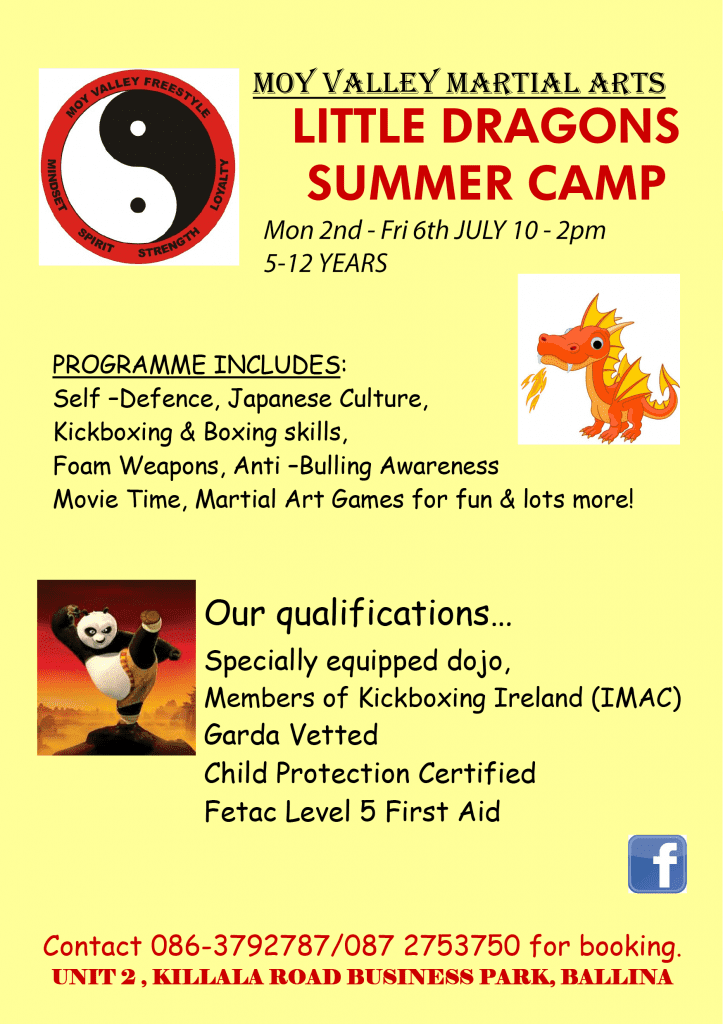 Ballina Adventure & Activity Camp
Week 1 –   9th July – 13th July
Ballina Community & Sport Centre
Week 2 –  30th July – 3rd August
Quay NS
Week 3  –  13th July  – 17th july
Quay NS
Time :  10am – 3pm
€60 per child per week €55 for additional family members
Daily Drop in facility €20 per day
Contact : 087  67891367
Sports, Art ,Dance ,& much much more
Aprés Festival
Fun with one of our many talented artists whom you will meet during our exciting workshops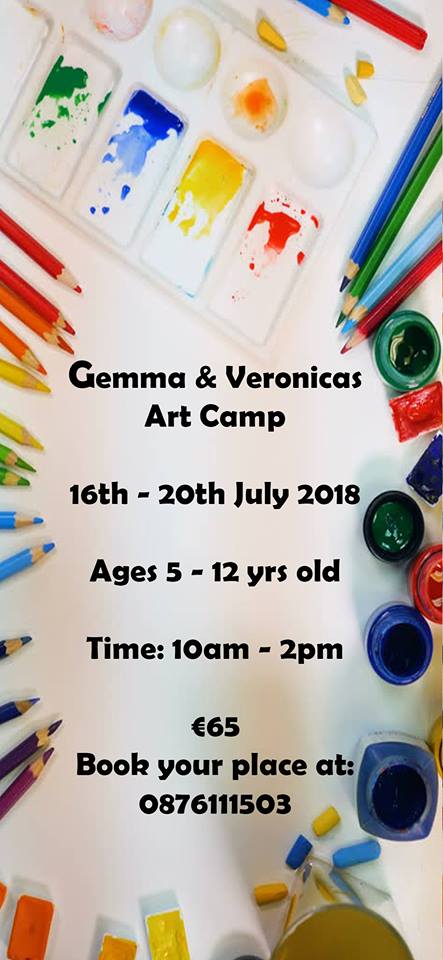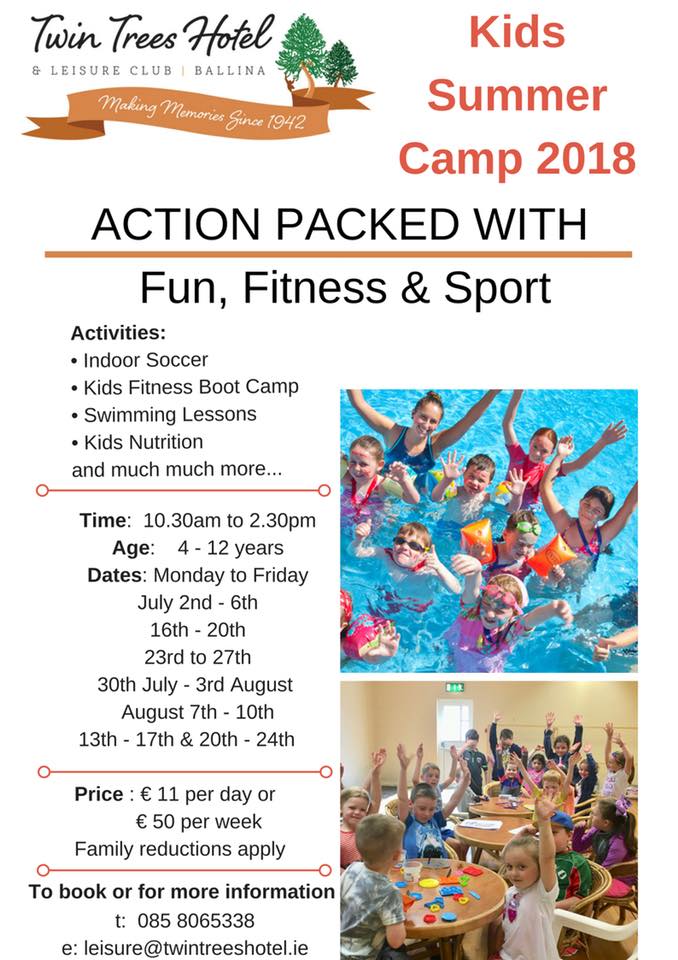 If you would like to see your camp here please contact us [email protected]
Related Articles
Read more from Uncategorised