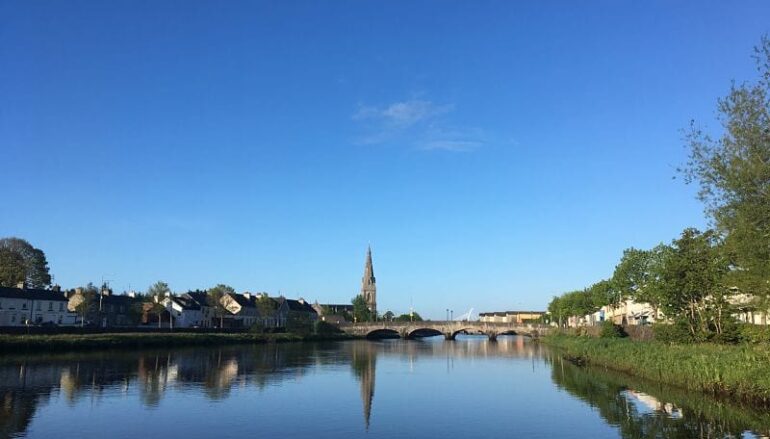 Ballina 2023 is going live!
Ballina 2023 to host free open-air live music event at Tom Ruane Park
Ballina 2023 new website and new logo to be revealed
Specially Commissioned Film to showcase Ballina to premiere
Ballina 2023 is a year-long celebration that will mark the 300th Anniversary of the official founding of the town and will feature a series of large scale public events throughout the year.
Ballina 2023 will launch their new website and logo with a specially commissioned promotional film that will showcase all that is unique and wonderful about Ballina. The film will premiere live on the website, www.ballina2023.ie, on Friday September 17th next from 1pm.
To celebrate the launch, which coincides with Culture Night, Ballina 2023 will also be staging their first public celebration of the year-to-come, Ballina 2023 : Beginnings – Live an open-air live music event at Tom Ruane Park. The event will feature a line-up of some of the best of Ballina's local music talent performing live together for the first time as well as the first public screening of the new Ballina 2023 promo film, in what promises to be a magical evening on the banks of the river Moy.
The line-up will feature Ballina favourites folk/ trad/ pop group Billow Wood, rising star, Michael Moloney, the popular local tenor David Lynn, songstress and budding actress Fionnuala O'Boyle and Ballina's own Drag Queen extraordinaire Bradley Brock. Gates will open at 6pm.
Ballina 2023 are also inviting the people of Ballina to get involved, share their ideas and host their own events for the year. A Ballina 2023 Community Desk will be at the event where enthusiastic members of the public can share their ideas on what they would like to see happen for the year. The communities of Ballina can also get in touch to collaborate through the new Ballina 2023 website, via social media or by emailing [email protected].
Tickets for the event will be available from Event Partner, Ballina Arts Centre from September 8th and are free but strictly limited due to COVID-19 restrictions – so act quickly to ensure you get yours!
Due to current Government restrictions, to ensure no one is left disappointed, a prerecorded digital event, Ballina 2023 : Beginnings – Live, featuring a song from each of the performing artists will also go live on the Ballina 2023 website and social channels from 6pm on Friday September 17th.
In addition, to mark National Bike Week, the launch of Ballina 2023 will be a car-free event in collaboration with Ballina's Green Town initiative. Those attending are encouraged to park in Ballina's existing car parks and walk or cycle to Tom Ruane Park. A 'Park n Ride' convoy will also leave Batchelor's Walk car park at 5:30pm, led by Rachel Nolan of Rachel's Irish Adventures.
Ballina 2023 is funded by Mayo County Council and supported by Ballina Municipal District Council, Ballina Chamber of Commerce, Ballina Lions Club, Mayo North and Moy Valley Resources. 
Event partners for the launch include Ballina Arts Centre, Jackie Clarke Collection, Mayo Volunteer Centre and Ballina's Green Town Initiative.
The Local Live Performance Programming Scheme is funded by the Department of Tourism, Culture, Arts, Gaeltacht, Sport and Media and administered by Mayo County Council.
Related Articles
Read more from News