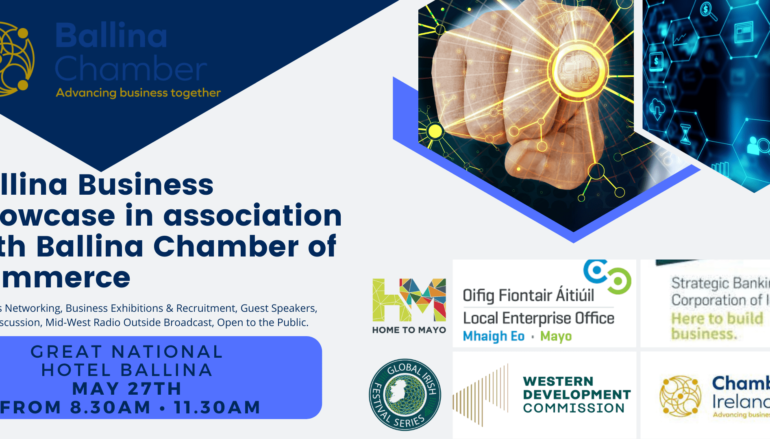 Ballina Business Showcase in association with Ballina Chamber of Commerce
"Ballina Business Showcase in association with Ballina Chamber of Commerce" as part of Home to Mayo.
Venue: Great National Hotel Ballina Time: 8.30am – 11.30am
Meet the Chamber, Business Networking & Recruitment, Business Exhibitions, Mid West Radio Outside Broadcast, Invited Panel Discussion, Open to the Public.
About this event:
Ballina Chamber is the largest official and full time Chamber in Co Mayo. Pre pandemic it accommodated over 200 members from a wide range of sectors, including owner managed businesses to the largest employers in Connacht. We want to reconnect with as many businesses as possible and invite you to join us for Ballina's Business Showcase, as part of the Mayo.ie month long 'Home to Mayo' Festival during May.
Ballina Chamber intends to kick start networking in the region by providing businesses with the opportunity to interact with fellow industry sectors, provide business with a platform to raise their profile, offer companies the prospect of staff recruitment and equally potential employees can drop their CV's into exhibiting businesses.
Mid-West Radio will also host an outside broadcast on the day, featuring local speakers from the hospitality and retail sector, with discussions around enterprise and the community at large.
The event is open to Ballina Chamber members and non members and the business community in the regions. All Welcome.
Why Join Us on May 27th?
Business Networking is a valuable way to expand your knowledge, learn from the success of others, attain new clients, tell others about your business, and recruit new staff.
Morning Programme (Further details to be confiemd )
8.30am Venue open for Registration & Business Exhibitors set up
9am Tea/Coffee and networking opportunity
9.30am Welcome & opening notes by Tracey Glacken President of Ballina Chamber
9.40am Maria Staunton, Innovation Hub Manager at GMIT / Coordinator of EMPOWER Programme, will present and act as moderator for the panel discussion.
9.45am Invited guest speakers featuring
Mayo Local Enterprise Office
Western Development Commission
Chambers Ireland
The Strategic Banking Corporation Ireland
10.10am Panel Discussion with all four guest speakers, moderated by Maria Staunton
10.30am Concluding panel remarks
10.40am Final opportunity to network, enjoy tea and coffee.
11am Close of Event
Ballina Showcase will provide businesses with training, networking, and collaboration opportunities on the day.
The theme on the day is 'Resilience & Recovery' – Some Business have Survived – Some others have thrived. These are the topics on the day, as business look forward to new opportunities with challenges along the way.
Ballina's big employers will also be in attendance, the event is open to the general public who want to meet potential employers and leave their CV.
Save the Date Now & Book Now
Register to secure your place to attend.
Click on link to Register Your business for a Business Stand & Promote your Business.
The event is open to the public and those wishing to meet potential employers are encouraged to join the event and connect with potential businesses on the morning.
For more information, email [email protected] or call Ballina Chamber office at 096 72800.
Related Articles
Read more from Uncategorised