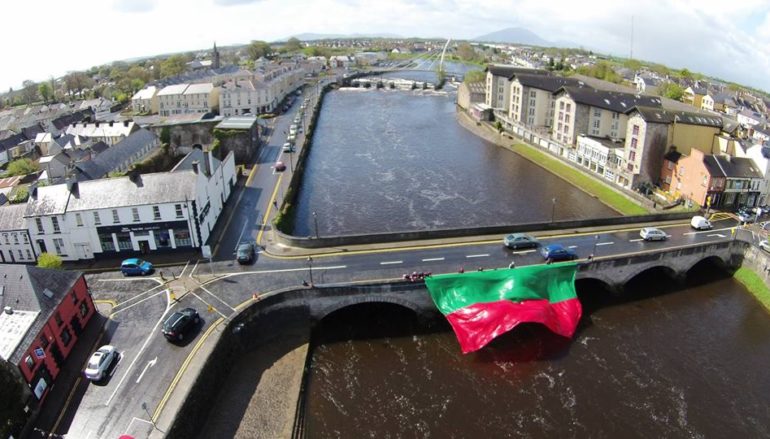 Ballina Street Festival hosts Heritage Day 2019
National Heritage Day, 10th July 2019
Ballina Street Festival running from Monday 8th July to Sunday 14th July kick starts the summer holidays with the usual stallworth events scheduled to take place including National Heritage Day, Picnic in the Park with your teddy, an old fashioned 'Beat on the Street' and Saturday night Fireworks extravaganza.
With a full line up of events soon to be announced, Paul Regan, Chairman of the Ballina Street Festival says "Ballina loves to put on a great show, we love welcoming people to our town and are so proud of the tourism offering Ballina and North Mayo has to offer. Ballina Street Festival has a seven day packed to capacity programme catering for all tastes and ages, from the young to the mature, offering classic Treasure Hunt, musical extravaganza, a big old Street Party and bumper Children's Programme. We're also proud to be hosting two events on our glorious River Moy; the River Moy Swim and Stand Up Paddle boarding and Sail on the River Moy. We would like to acknowledge the support and help from Ballina Salmon Festival."
Now its its 30th year, Ballina's National Heritage day runs on Wednesday 10th July. Welcoming crafters and vintage connoisseurs from around the country, Ballina transforms itself into a town of bygone years. Walk the streets, savour the smells and flavors of yesteryear and watch the demonstrations of how we Irish lived, worked and survived in a different era.
For those wishing to participate in Ballina's Heritage day, there is still an opportunity to do so, simply click on the Heritage Application form or if you are a Food vendor, Click here and return it to Ballina Tourist Office at [email protected]
Ballina Street Festival Highlights 2019
Monday 8th July
Take me Home Colleen, an original piece of Music by local singer songwriter Brendan Farrell @ Ballina Arts Centre, Tickets now on Sale.
Tuesday 9th July
Donegal comedian Conal Gallen returns to Ballina with his new show @ the Ballina Arts Centre, Tickets now on Sale.
Wednesday 10th July
Ballina's National Heritage Day, the glorious Heritage Day runs all day, with street closures, hundreds of street stalls, arts and crafts and live music. Come in for the day and stay for the night!
Thursday 11th July
Abbey Street Take Over; be warned as plenty of craic and devilment ensues in the crazy world of Abbey Street over the bridge.
Friday 12th July
Pearse Street Party Frolics; a plethora of the finest of Irish trad music and song lifts Pearse St, as party games, craft beers and a big Ballina Band finishes off the nights fun.
Saturday 13th July
'Beat on the Street' in the Market Square, an original event that Ballina owned in the 80's and 90's and now its back with a bang, preceded by Ballina's local musicians to get the party started with guest DJ, followed by a Fireworks Extravaganza.
Sunday 14th July
Picnc in the Park & bring your Teddy along. A day of family fun, music and bouncy Castles.
This is only a taster of Whats to come with an additional programme of events, including a packed Childrens Programme to rival no other, to be announced shortly.
For further information, please contact Ballina Chamber & Tourist Office 00353 96 72800 | [email protected]
44 Pearse St, Ballina, Co Mayo
Related Articles
Read more from Uncategorised