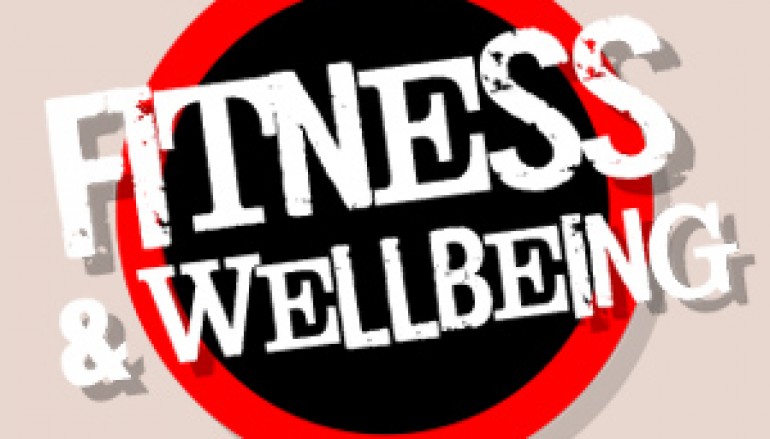 Move & Improve: Health, Fitness and Wellbeing
Move & Improve: Health, Fitness and Wellbeing Event will take place in Ballina Community Sports and Leisure Centre Cathedral Lane (Next to Moyne College, behind St Muredachs Cathedral), on Thursday 13th September, drop in any time between 4pm and 8pm. Free event!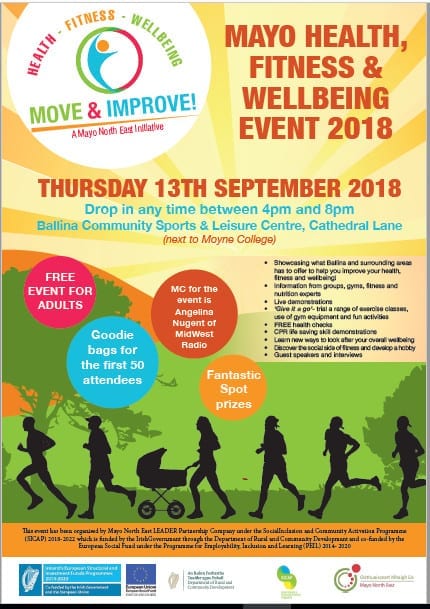 About Move & Improve:
Mayo North East LEADER Partnership Company, in collaboration with Ballina Community Sports and Leisure centre and local groups and clubs are delighted to announce a new initiative 'Move & Improve' to encourage all adults, male and female of all ages to look after their health, fitness and wellbeing. This improvement could come about through becoming more involved with a group, taking up a hobby that alleviates isolation and loneliness. Starting a new activity to get you fitter, learning how to relax and ease stress which will raise your spirit and lead to a better work/life balance or make you feel more positive and ready for education, employment or progressing into something new!
The event will showcase a range of stands from local groups, with suggestions for activities that assist with health, fitness and wellbeing.
There will be optional 'give it a go' sessions such as how to get the most out of using gym equipment, how to plan an exercise session to suit your goals. Guest speakers on heart health, nutrition, reaching your goals and much more. Free health checks. Demonstrations of Martial Arts and self defense, the benefits of juicing, how to prepare healthy quick meals. the benefits of art, creative writing and dance on our wellbeing! Wear comfortable clothes and shoes to join in on taster session of Zumba, Yoga and Meditation.
And….. join in on the challenges to have a laugh!
Fantastic spot prizes and a limited number of Goodie Bags available. The event is FREE and open to all male and female adults. Booking is NOT required.
MC on the day is Angelina Nugent from Mid West Radio.
This event has been organised by Mayo North East LEADER Partnership Company under the Social Inclusion and Community Activation Programme (SICAP) 2018-2022 which is funded by the Irish Government through the Department of Rural and Community Development and co-funded by the European Social Fund under the Programme for Employability, Inclusion and Learning (PEIL) 2014- 2020
If you have any queries about this event contact Mayo North East on 094 9256745 asking for Rita or Niamh or email [email protected] / [email protected]
Related Articles
Read more from Uncategorised