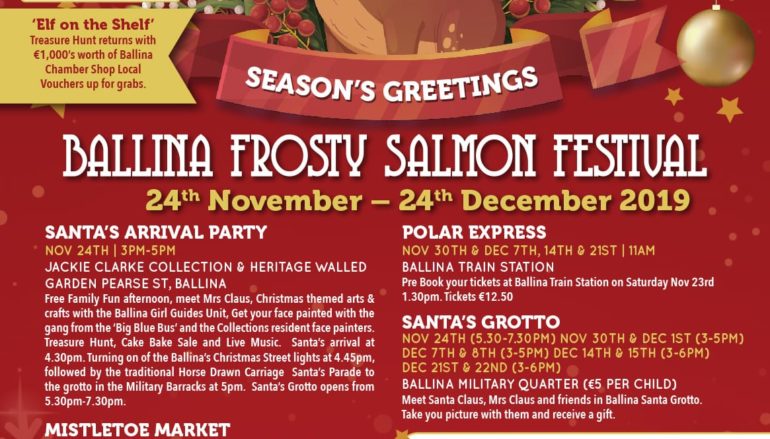 Ballina's Frosty Salmon Festival and Countdown to Christmas
The much-anticipated Frosty Salmon Festival, Ballina kicks off on Sunday 24th November, celebrating all that is great and wonderful in our community, with Santa's Arrival Party at the Jackie Clarke Collection, followed by the Official Turning-On of Ballina's Christmas Lights.
Santa's Arrival Party and Turning on of Ballina's Christmas Lights
November 24th | 3pm-5pm
Jackie Clarke Collection & Heritage Walled Garden Pearse St, Ballina
Free Family Fun afternoon, meet Mrs Claus, Christmas themed arts & crafts with the Ballina Girl Guides Unit, Get your face painted with the gang from the 'Big Blue Bus' and the Collections resident face painters. Treasure Hunt, Cake Bake Sale and Live Music . Santa's arrival at 4.30pm.
Turning on of the Ballina's Christmas Street lights at 4.45pm, followed by the traditional Horse Drawn Carriage Santa's Parade to the grotto in the Military Barracks at 5pm. Santa's Grotto opens from 5.30pm-7.30pm.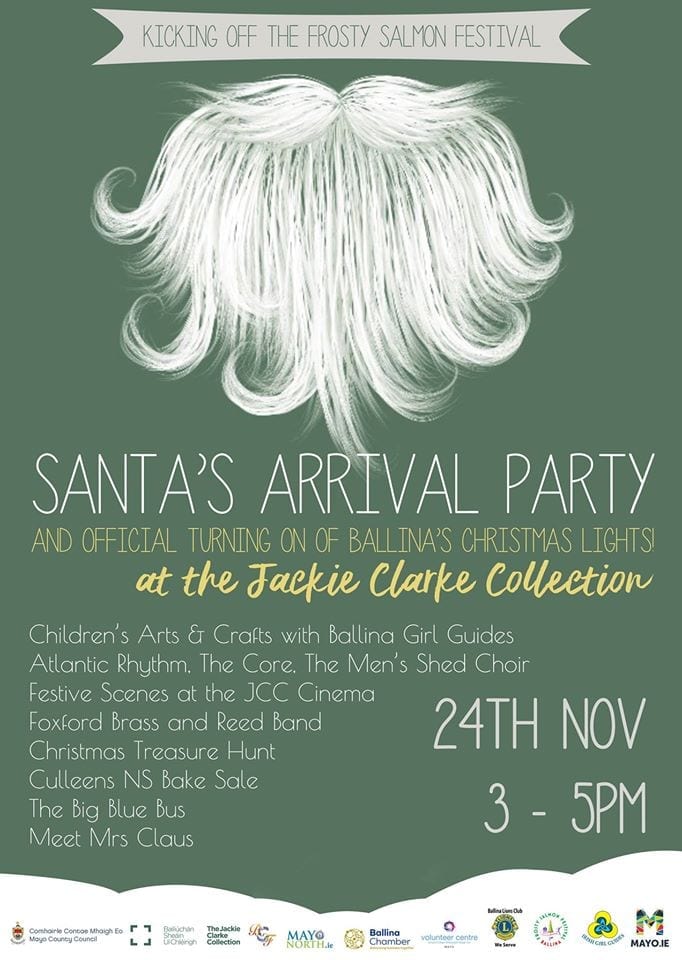 Mistletoe Market
November 30th Saturday & December 1st Sunday | 12 noon -6pm
Ballina's Mistletoe Market returns for Christmas 2019, for two days under Ballina's unique canopy cover.
Enjoy live music and Christmas cheer with local choirs and musicians, pick up some unique crafted Christmas gifts, dine on delicious foodie treats and visit Santa and Mrs Claus in Santa's Grotto.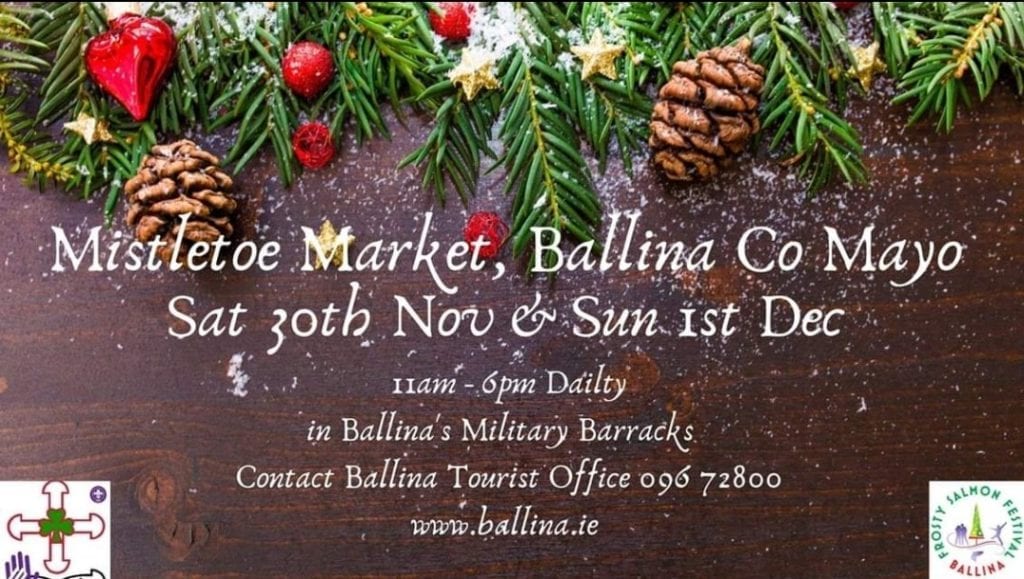 Polar Express
Nov Saturday 30th & Dec Sat 7th, Sat 14th & Sat 21st | 11am | Ballina Train Station
Pre Book your tickets at Ballina Train Station on Saturday Nov 23rd 1.30pm. Tickets €12.50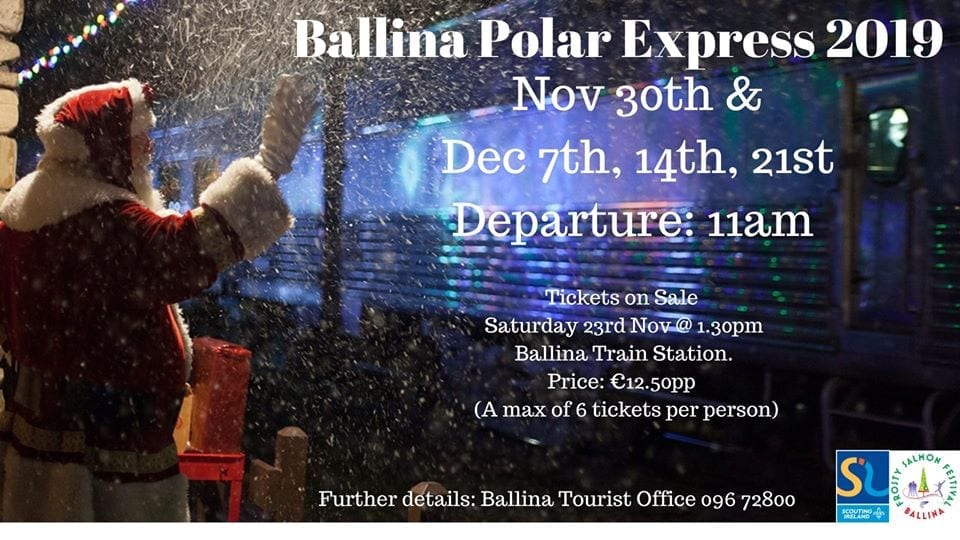 Santa's Grotto | Ballina's Military Barracks
Santas Grotto opens its magical doors to coincide with Santa's arrival party on Sunday Nov 24th(5.30-7.30pm) and from there after Santa and Mrs Claus takes up residency in the beautiful surroundings of Ballina's Military Barracks. Take as many pictures as you want with Santa and Mrs Claus, Santa's sleigh is also parked up and receive a very specail gift.                                                                                 
Nov 30th & Dec 1st (3-5pm) Dec 7th & 8th (3-5pm) 14th & 15th (3-6pm) 21st & 22nd (3-6pm) Ballina Military Quarter (€5 per child) Meet Santa Claus, Mrs Claus and friends in Ballina Santa Grotto. Take you picture with them and receive a gift.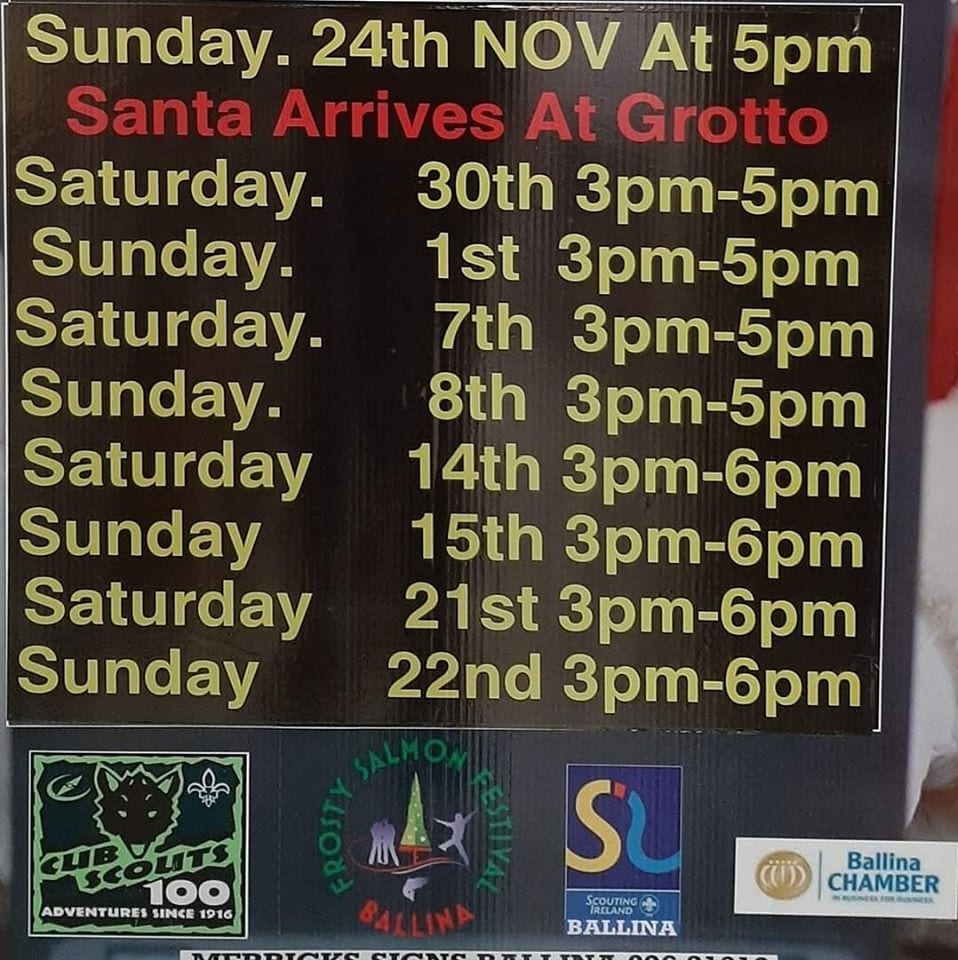 Christmas Cracker Bonanza Draw
Shop Local in Ballina this Christmas and be rewarded with entry into Ballina Business's Annual Christmas Draw. With €10,000's worth of vouchers from local businesses to be won, this years draws take place Friday 6th Dec – Friday- 13th Dec and Wednesday- 18th Dec, Further details at https://www.ballina.ie/christmas-cracker-bonanza-draw-launched-for-6th-year-in-ballina/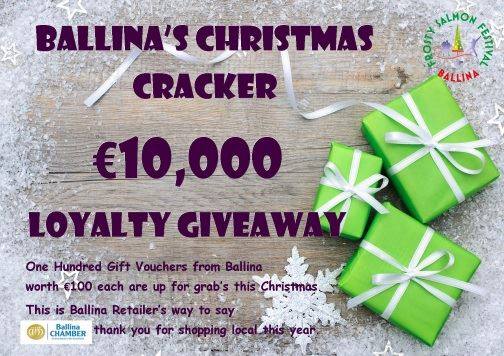 Coca-Cola Truck
December 4th | 2.30pm – 7.30pm
Holidays will be well on the way as the Military Barracks will be lit up in red, the Christmas lights will illuminate the town as the Coca Cola Truck rocks into Ballina.
'Elf on the Shelf' Treasure Hunt returns with €1,000's worth of Ballina Chamber Shop Local Vouchers up for grabs.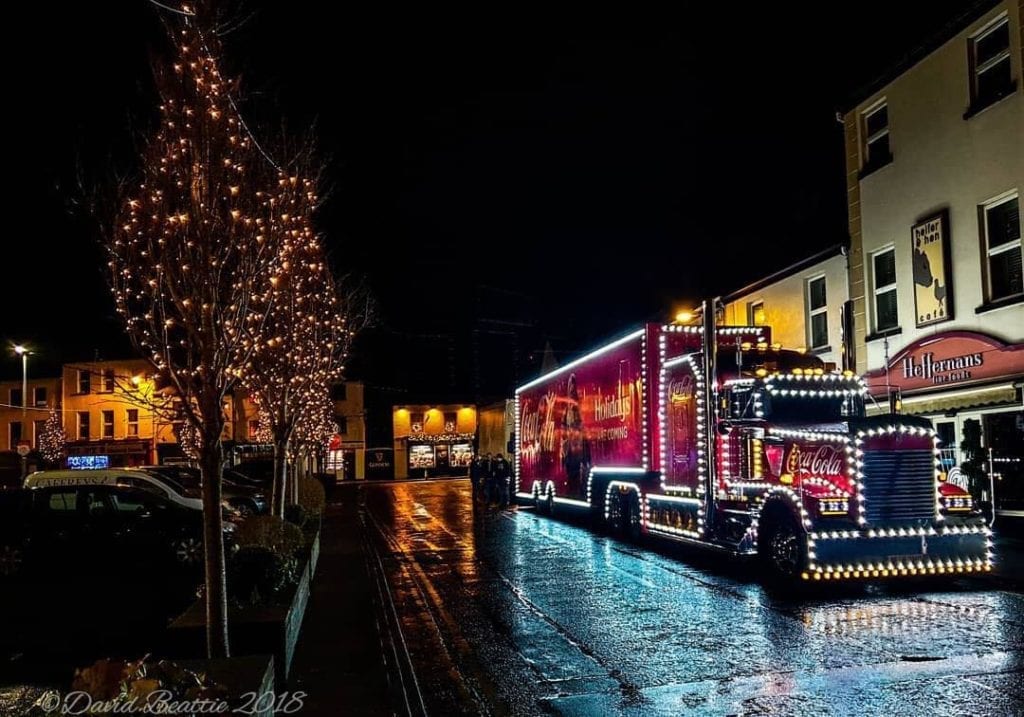 Free Parking
25th Nov – 24th December
From 2pm in Council Car Parks Free parking will apply in all of the Council owned Car Parks in Ballina town each day from 2pm effective from the 25th December to the 24th December, 2019.
Dunnes Stores Car Park
Kilcullens Car Park (behind Tesco)
Batchelors Walk Car Park
Ballina Arts Centre Car Park
Diamonds Car Park
Lionbridge car Park
Market Square Car Park
Military Barracks Car Park
Pay and Display will be operational as normal on the streets during this period. Monthly Discs are also operational in the car parks as normal during this period.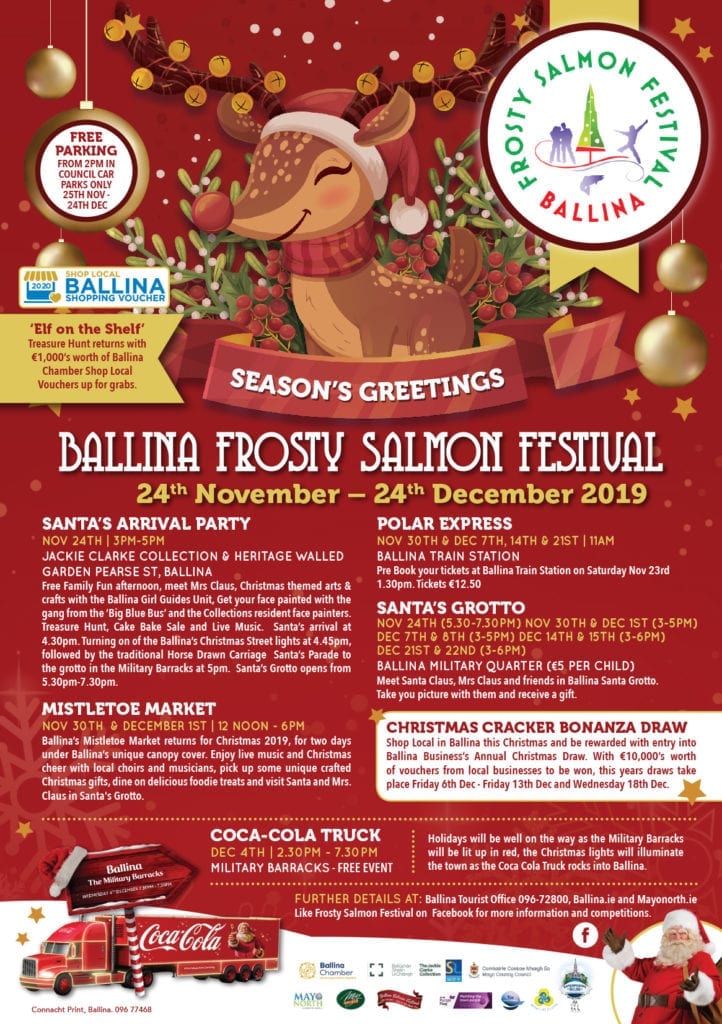 Ballina is buzzing this this Christmas, to keep up to date on all this happening to to Ballina Frosty Salmon Festival
https://www.facebook.com/FrostySalmonFestBallina/
Contact ballina Chamber & Tourist Office 096 72800
Related Articles
Read more from Uncategorised