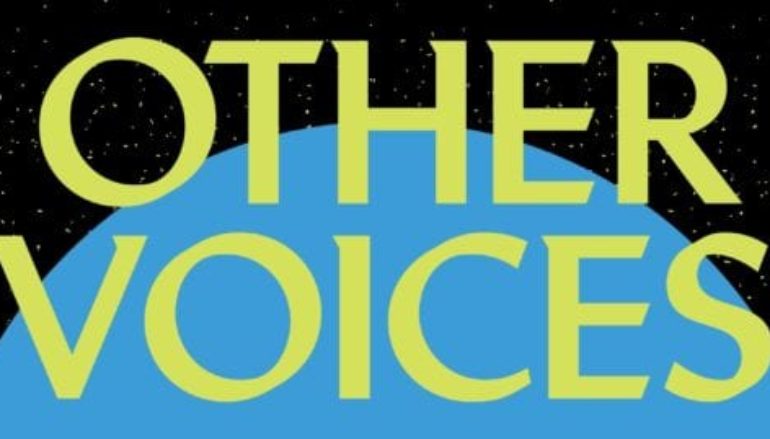 First four acts announced for St. Michael's Church at Other Voices Ballina 2020
Friday 28th & Saturday 29th February, Ballina, Co. Mayo
On Friday 28th and Saturday 29th February 2020, Other Voices Festival returns once again to the gorgeous town of Ballina, Co. Mayo. The 225-year-old ancient walls of St. Michael's Church in the heart of the town, will come alive with two very special nights of incredible music performances from both Irish and International artists while being recorded for TV in front of a live audience.
Kicking off the second year of Other Voices in Ballina, we are thrilled to announce our first four acts to perform in St. Michael's Church. The anthemic ELBOW, the formidable four-piece SKINNY LIVING, spoken word artist and rapper DENISE CHAILA and last but not least, from California, the exceptionally talented singer-songwriter and guitarist JESCA HOOP. With even more superb acts yet to be announced, including the Other Voices Music Trail, this is sure to be one very special and memorable weekend in Ballina town next month.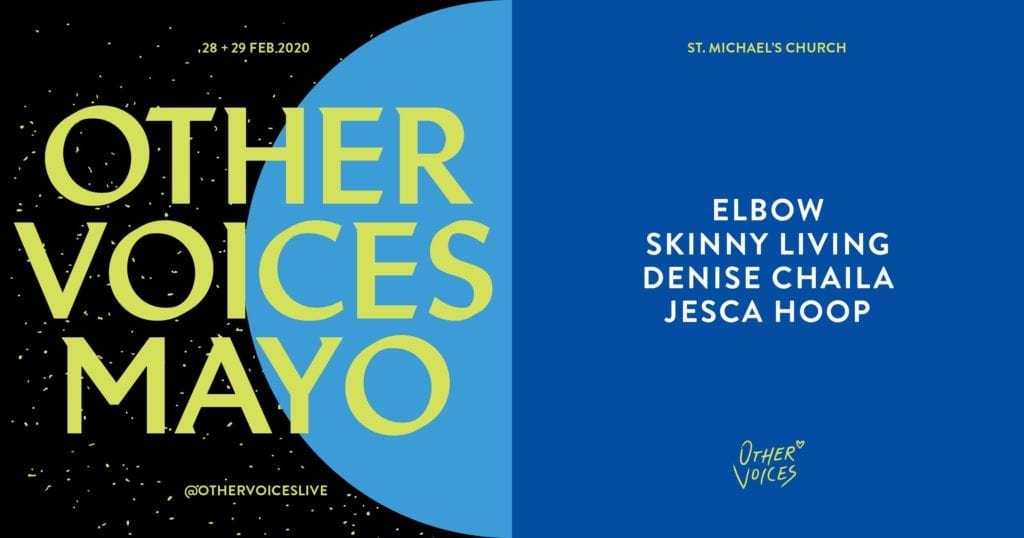 This is a unique and special opportunity for music lovers to witness unforgettable performances from stellar international artists playing in such an intimate church setting. The essence of Other Voices is about stripping it back to the musician and the audience which creates an amazing experience for both the performer and the listener and that's where the heart of the festival lies.
Tickets for the St. Michael's Church TV recording performances cannot be purchased and will be given away through competitions in national and local radio, press and online. All ticket competitions will be announced in advance at www.othervoices.ie
Beyond St Michael's Church, the Other Voices Ballina Music Trail will feature more than 30 free gigs taking place in various venues across Ballina over the Other Voices Festival Weekend. The Music Trail will feature an exciting and diverse line-up of performers, musicians, DJs and bands, raising the roofs of pubs and venues across Ballina on February 28th and 29th. Guaranteed quality new sounds for all ears and 100% free to enjoy. Venues and acts performing on the Music Trail will be announced in the coming weeks.
Calling all PERFORMERS! From 2020 onwards, Other Voices have a brand new rolling submission policy for musicians who are interested in performing at Other Voices events throughout the year. Whether you are a band, a singer-songwriter, a rapper, DJ collective or duo, you are invited to apply for a chance to play. To get the ball rolling, if you are interested in submitting your act for consideration for Other Voices Ballina 2020, all you have to do is apply HERE but you need to get in quick as the application closing date is Friday 24th January at 5pm.
While getting your hands on a ticket for the Other Voices TV recordings can be like finding a Golden Ticket, fear not, Other Voices Ballina festival-goers won't miss a beat from the Church, as the Other Voices Live Streaming in partnership with Virgin Media sets up throughout the town. Music fans can enjoy all the happenings in St. Michael's Church, at multiple locations throughout Ballina. With huge screens, high definition audio-visual and close proximity to a freshly poured pint, screening venues will be a massive hit during the Festival. Grab a stool, sit back and relax.
First 15 Music Acts Announced
First 15 acts revealed for the Other Voices Ballina Music Trail including Runabay, Lydia Ford, Join Me In The Pines, Shookrah, The Mary Walloper,. Read More
Next set of Artists announced
for TV Recordings at Other Voices Ballina 2020 Read More
TICKETS TO ST. MICHAEL'S CHURCH
Tickets for the intimate TV recordings at St. Michael's Church will be made available by competition only through Other Voices and partners social media and digital platforms. Church Performances from St. Michael's will be live-streamed into venues around Ballina town.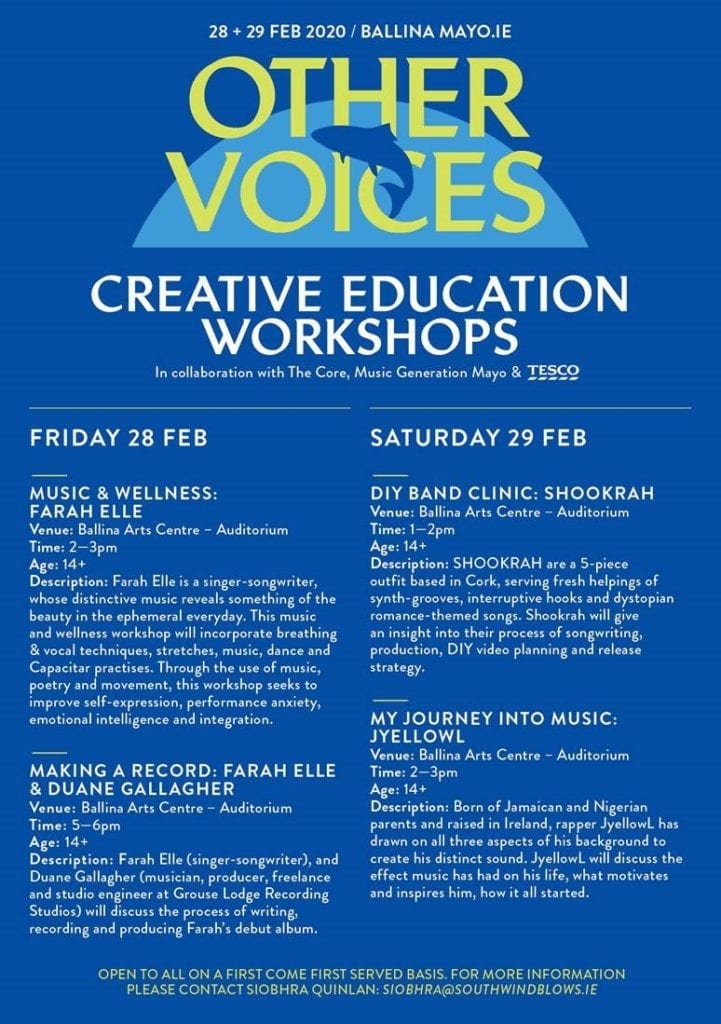 Other Voices Hub: O'Rahilly St, Ballina (Thanks to Tom Gilligan)
Wed 26th & Thurs 27th: 12pm — 3pm
Fri 28th & Sat 29th: 12pm — 8pm
Sun 1st: 12pm — 4pm
Timetables & registration check-in available from the hub from Thursday.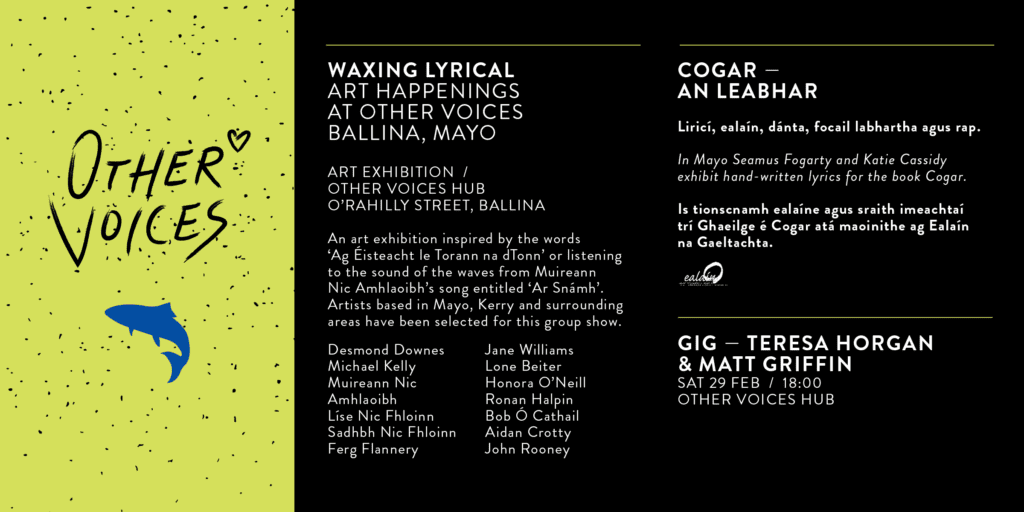 Related Articles
Read more from Uncategorised