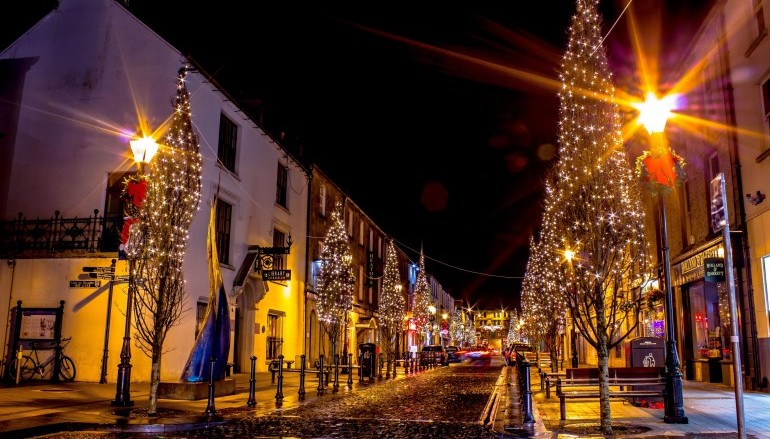 Christmas wishes from Paul Regan, President of Ballina Chamber of Commerce
On behalf of the Management and Staff of Ballina Chamber of Commerce I would like to wish you and your family a happy and peaceful Christmas, and a prosperous new year!
Ballina Chamber is here to support your business. The initiatives that the Chamber has promoted over the year has supported businesses in Ballina and the surrounding area. The Chamber launched the Shop Local Chamber Voucher scheme in the run up to Christmas to promote retail activity/employment in Ballina and its surrounding areas. So far sale figures are growing for the Shop Local Chamber Shopping Vouchers with over €15,00 worth of vouchers sold to date. These vouchers are available throughout the year and make great presents.
We would like to take this opportunity to sincerely thank the local business community, and the general public who supported the Shop Local Gift Voucher Initiative, and hope you will continue to support 'Shop Local' in 2017.
As a member of Ballina Chamber of Commerce your business plays a vital role in ensuring that we can continue to deliver a range of services to help you and your business to progress.
The following events were successfully delivered to our membership, and businesses during the year; Business Expos, Seminars and Workshops, Tourism Networking, Embassy Visits, Mayo Business Awards, Breakfast Briefings, Easter and St. Patrick's Day Festivals, Mayo Day, French Mayo, Samhain Abhainn, Frosty Salmon Festival and many more too numerous to mention. Such events gave businesses an opportunity to network, and participate in a variety of targeted training programmes, as well as working together for the greater good of the Ballina community.
The Mayo Chamber Business Awards event attracted an attendance of over 350 peoople to Ballina, and Chamber supported festivals enticed over 100,000 visitors to the area. Ballina has also been chosen as one of nine towns in Ireland to participate in pilot programe 'Town Centre Health Check', supported by Ballina Chamber, GMIT, Mayo County Council, and Ballina Tidy Towns.
We are also delighted to announce the opening of the new office on Pearse St, (next door to the Old Gem knitting shop, across the road from Jackie Clare Collection) and all are welcome to visit the office in the new year
The chamber's active participation on numerous forums, and joint committees with local authorities, development agencies and neighbouring Chambers, ensures that the key business issues locally are being represented, and incorporated into the decision making processes within the region We as a chamber will continue to influence all appropriate public and private bodies, and state agencies, in order to facilitate the creation of an environment, and infrastructure in Ballina and its environs which is conducive to the further development of business, industry and commerce.
Ballina Chamber continues to grow its membership. We are the largest business network in Co Mayo, as well as playing a vital part in Mayo Chambers, chaired by Ballina Chamber PRO; Brian Hopkins. Brian represents the people and business community of Ballina and County Mayo at various nationwide meetings especially the N4/N5 project, and the Atlantic Economic Corridor. Mayo Chamber aims to be the prime representative forum for businesses in Co Mayo. As part of Ballina Chambers five year strategy, our primary objective is to stimulate investment, sustain economic growth, enhancing business opportunities, and represent the interests of, and for our members.
I look forward to meeting you, or your staff at some of our planned 'events 'during 2017. Events details will follow in the new year. 
Ballina Chamber will close this Friday the 23rd December at 2pm and will re open on Wednesday the 4th January 2017 at 10am.
Kind Regards,
Paul Regan
President Ballina Chamber of Commerce
Related Articles
Read more from News