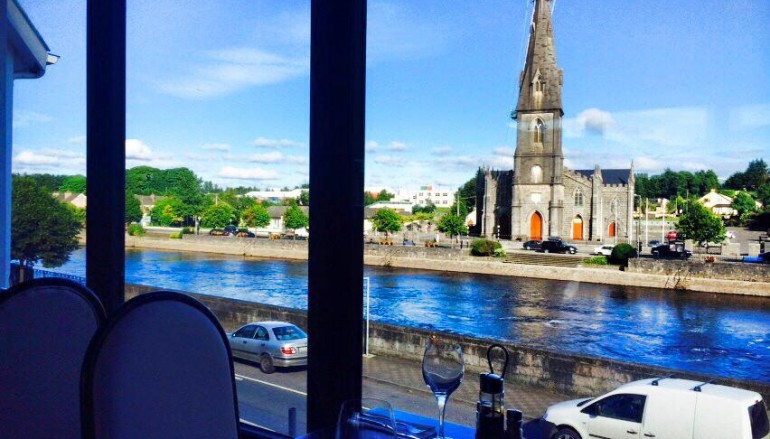 The Lantern Chinese Restaurant & Take Away Ballina
The Lantern Chinese Restaurant & Take Away, Ballina, celebrates its 30th anniversary this week, and you're invited to the party this Saturday! That's 30 years of Ballina's favourite dish, the world-famous, delicious, Chicken Dry Hot & Spicy!
The Lantern Chinese Restaurant came to be because of a chance meeting in 1985 in Kites Chinese Restaurant, Ballsbridge Dublin, when a Ballina business couple who regularly dined in Kites offered and invited Head Chef, Sunny Ho to open Ballina's first Chinese restaurant. Sunny & his wife Loretta travelled to Ballina and instantly fell in love with the town and saw the potential it had for a Chinese Restaurant. A few months later, The Lantern Chinese Restaurant & Take Away opened for business by the River Moy, where the old Murphy's / Longnecks nightclub now stands. Locals got their first ever taste of Chinese cuisine and they couldn't get enough of it!
The Chicken Dry Hot & Spicy recipe is the creation of Sunny,  and it was by sheer chance and coincidence that it was eventually offered as a dish to customers.
Traditionally each day before opening of the restaurant, Sunny would cook a big meal for all the staff to enjoy and it was during this meal that a delivery driver dropping off goods in the restaurant was attracted by the aroma of the staff meal. The driver asked Sunny for a taste, and obligingly Sunny packed some of the meal he had made and gave it to the delivery driver. The very next day the same delivery driver returned and asked for the same dish again as it was so delicious and flavoursome. Sunny obliged again and cooked him the dish and as each day passed, word spread and more and more customers came looking for this popular dish. This dish as we know now as Chicken Dry Hot & Spicy!
Locals crave it, tourists rave about it, and expats look forward to it when they return home. It has been aptly named "The Taste of Ballina" as it has become the town's staple diet and favorite food.  A Facebook page has been set up in its honour and even the national media are mad about it! A recent customer of the Lantern summed it up perfectly: "Three things I look forward to when I come home to Ballina; family, friends & the Lantern's Chicken Dry Hot & Spicy".
Family recipe
The secret and famed recipe has since been passed by on by Sunny to his son Jackie who has taken over the running of the business. Jackie grew up in Ballina and spent many a summer in the kitchen learning the trade. He has recently moved home from Dublin where he worked in Finance & Investment for 10 years. A true foodie with a diverse palate and a real passion for food, Jackie has worked tirelessly to design and decorate the new premises on Emmet Street.
In the new restaurant, the views of the River Moy & St. Muredach's Cathedral are breathtaking, and the minimalist yet attractive internal decor with subtle hints of Chinese & Asian influences perfectly compliments the stunning view and great food. The layout of the restaurant is spacious and airy with plenty of natural light throughout with bench seating in both corners which are ideal for private parties and special occasions. 
Here a face you might recognise that visited The Lantern on many of occasions
Dont forget the Famous Dry Hot ans Spicy Challenge that Gripped the Country people travelled Far and Near to give it a go. Did you do it ????
Come along to the Lantern Chinese Restaurant 30th Birthday Celebrations
Saturday 5th November promises to be a fun-filled and action-packed day with MWR broadcasting live outside The Lantern Chinese Restaurant on Emmet Street for the official opening from 1:30pm until 5pm.
There will be face painting for children from 3pm and a traditional Chinese Lion Dance performance to bring good luck and prosperity to the new premises at 4:30pm. There will be vouchers and generous spot prizes as up for grabs throughout the day as The Lantern thanks its many customers for 30 years of support in the town of Ballina. For more information, keep an eye on Facebook.
Come along and check out the amazing view and new restaurant for yourself!
Related Articles
Read more from Uncategorised