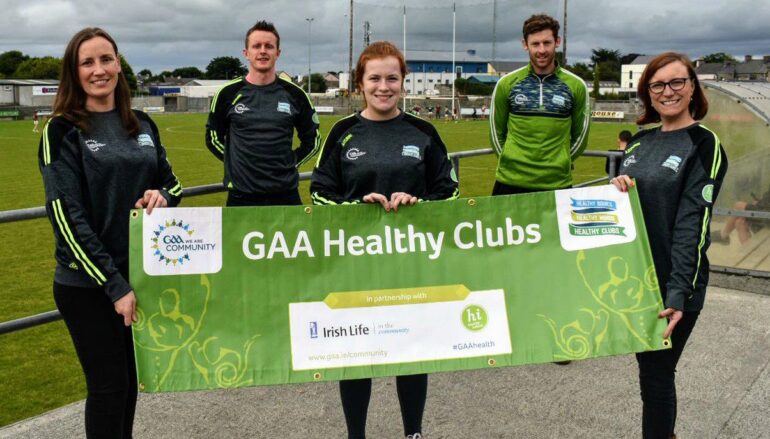 Healthy Club status award for local GAA Club, despite global pandemic crisis.
Ballina Stephenites GAA Club are delighted to announce they have recently been awarded Healthy Club status by Croke Park, a fantastic achievement especially during such a challenging period. The Healthy Club Project aims at helping clubs explore how they support the holistic health of their members and the communities they serve. Ballina Stephenites already contributes to the health and wellbeing of its members by providing opportunities to develop physical, social, emotional and psychological health however, this project further aims to help clubs identify what they are already doing well, areas they can or would like to improve and it empowers them to ensure that everyone who engages with their club benefits from the experience in a health-enhancing way, be they players, officers, coaches, parents, supporters or members of their local community.
Club Chairperson Tony Neary stated; "Here at Ballina Stephenites, our long term aim is to embed a healthful philosophy into the club by combining health into the day to day activities within the club in a meaningful and sustainable way. We have always felt part of our community and wish to further strengthen our position, promoting ourselves as supporters for health in the locale."
Since the clubs involvement in the Healthy Club Project, commencing October 2019, it has delivered a variety of initiatives including a family cycle day an a five week health and wellbeing initiative which included physical, mental and nutritional fitness as well as supports on wellbeing.
The club has developed a Critical Incident policy to provide guidance to the club unit on how best to support its members and the community in times of crisis which provides an appropriate community-based response system. It has also introduced a club substance use policy to ensure that all members are kept safe from substance related harm when involved in club activities. Throughout its existence, the club and association has provided support to its members and the community through good times and bad.
Having received grant funding from the Community and Health Department in Croke Park including its partners Irish Life, the club installed two information stands signposting local support services, as well as resources to help maintain overall wellbeing. Both info stands are installed in the entrance hall for club members and inside the dressing room area for players.
David Clarke, Ballina Stephenites goalkeeper and former Mayo GAA player has recently come on board as Ballina Stephenites Healthy Club Ambassador, supporting future plans of project, David stated, "I see the benefit of an all-rounded approach in supporting players and club members for the future."
Fran Downey, Healthy Club Officer said "We are absolutely delighted to have received Healthy Club Status for our continued hard work in the area of Health and Wellbeing. The Clubs policies, partners, activities and environment are now aligned with supporting the more holistic health of our members and the wider community. I would like to acknowledge the contribution of everyone in the club who has helped in any way and hope to continue developing and delivering Healthy Club initiatives for the Future. It is great to be winning off the pitch as well as on it."
On the back of the Club receiving its Health Club Award, Ballina Stephenites is one of only five clubs chosen in Connacht and fortunate to be the only club participating in Mayo, alongside the Connacht GAA Centre of Excellence in Bekan, in phase one of the new GAA Green Club Programme, which has been initiated as part of the GAA's work as an Irish Champion of the UN's Sustainable Development Goals. The chosen area of focus is biodiversity, however the club will not be limited to this area of work.
Related Articles
Read more from Blogs