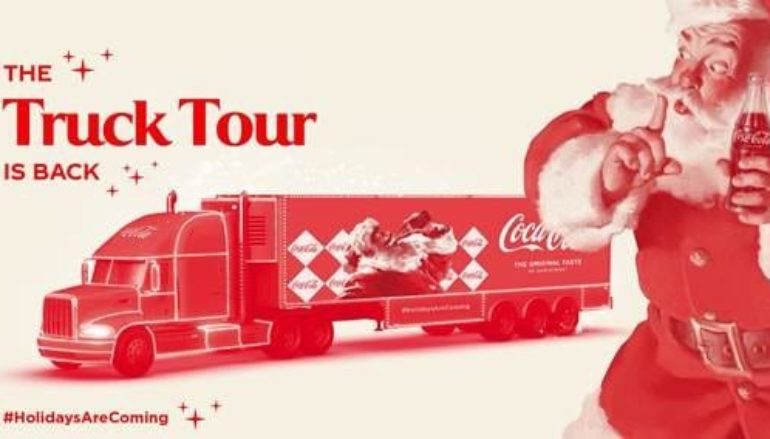 Holidays are Coming to Ballina on 4th December 2019
Holidays are Coming; Coca-Cola Unveils the 2019 Christmas Truck Tour
Holidays Are Coming – the countdown to Christmas has now officially started as Coca-Cola announces the return of the iconic Christmas Truck Tour. The Coca-Cola Truck Tour will make its first stop in Galway on the 30th of November, with further seven stops throughout the island of Ireland with its final stop in Dublin on the 15th of December.
Now in its ninth year Coca-Cola's Christmas Truck Tour has brought The Original Taste of Christmas to approximately 1.5 million visitors across the country. The hugely popular Truck Tour has racked up serious mileage, travelling the length and breadth of Ireland helping families get into the Christmas spirit.
Visitors will be able to enjoy a can of Coca-Cola Zero Sugar, Diet Coke or Coca-Cola Original Taste at each stop, and have an exclusive family Christmas photo taken while listening to Christmas carols performed by The Ramparts – an Irish A Cappella barbershop choir, creating magical memories that will last a lifetime. This year will see the return of Coca-Cola's Christmas merchandise cart, where all proceeds will be donated to the Coca-Cola charity partner, St. Vincent de Paul.
To coincide with Coca-Cola's 'World Without Waste' global commitment to collect and recycle a bottle or can for each one sold by the year 2030, Coca-Cola will also donate 10p for every can recycled throughout the Truck Tour to St. Vincent de Paul.P
Full list of 2019 the Coca-Cola Christmas Truck Tour locations:
Saturday 30th November: Galway Retail Park; 2pm – 8pm
Sunday 1st December: Dublin, Royal Hospital Kilmainham; 2pm – 8pm
Wednesday 4th December: Ballina, Military Barracks; 2pm – 8pm
Saturday 7th December: Belfast, Custom House Square; 2pm – 8pm
Sunday 8th December: Belfast, Custom House Square; 2pm – 8pm
Friday 13th December: Cork, Mahon Point; 2pm – 8pm
Saturday 14th December: Waterford, Winterval; 2pm – 8pm
Sunday 15th December: Dublin, Pavilions Shopping Centre Swords; 2pm – 8pm
Coca-Cola "Holidays are Coming" Magic beyond the Christmas Truck
The Truck Tour is not the only festive experience brought to you by Coca-Cola for 2019. Often said to mark the official start of Christmas, and a regular feature of the festive TV schedule, the famous 'Holidays Are Coming' advert has returned to Irish screens once again this year. Coca-Cola is also launching a new global advert, 'Accepting Santa', which aims to remind us that there is more that unites us than divides us and will launch in Ireland in December.
Holidays are also coming early for the unsung heroes who take on the role of a designated driver over the festive period with Coca-Cola encouraging people across the island of Ireland to stay sober and ensure loved ones and friends get home safely. Two free soft drinks from the Coca-Cola range will be available to designated drivers throughout the month of December in participating venues nationwide.
Contact Ballina Chamber of Commerce for further details 096 72800
Related Articles
Read more from Uncategorised