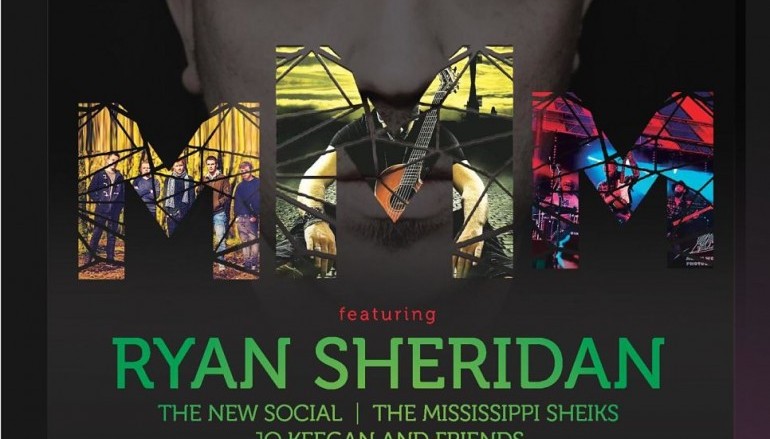 Ryan Sheridan headlines Mayo Day celebrations in Ballina
LIVE outdoor concert in the Military Quarter, Market Square Ballina from 8pm on Mayo Day, 29th April.
Mayo Day celebrations in Ballina features Irish music sensation Ryan Sheridan, playing live under the unique canopy cover in the historic Military Quarter of Ballina.  Proudly supported by Mayo County Council and Mayo.ie, this event is being organised by Mayo.ie with support from Ballina Chamber and Moy Valley Resources. All proceeds from the concert go to Ballina Salmon Festival. Mayo Day is a  celebration of our Mayo-ness in Mayo communities worldwide, so come along, don your green and red and join in the fun.
Ryan Sheridan
Ryan Sheridan, a multi-instrumentalist, came from the busking streets to a centre stage headline act in less than a year. A gifted and inventive guitarist, he has combined his six-string skills with percussive attack to create a unique sound that has thrilled packed houses worldwide. A born entertainer, this passionate singer with a gift for storytelling is a commanding stage presence; and his acoustic-driven, anthemic songs, connects with audiences wherever he is seen and heard. Ryan's debut album – 'The Day You Live Forever' – was released in 2011. Fuelled by the massive hits 'Jigsaw' and 'The Dreamer', the album went on to achieve platinum status in Ireland. In 2015, Ryan Sheridan's second album 'Here And Now' went straight to No.1 in the Irish charts.
[embedyt] http://www.youtube.com/watch?v=o7Gpul2E3pE[/embedyt]
Mayo's finest Musicians supports Ryan
The Mississippi Sheiks from the west of Ireland are a dedicated, hard-working no frills, energetic power trio. Inspired by the music and life of Irish guitarist Rory Gallagher, they continue to share his music around Ireland at every given opportunity.
The New Social are a five-piece band from Castlebar, who make their own flavour of rock music with a twist!
Jo Keegan is a singer/songwriter from Westport, Co. Mayo who specialises in roots and blues, with a powerful voice to rival the very best around.
'Mayo on Stage' celebrates Mayo Day with a concert of Music, and song in Ballina's Military Barracks.
From 12pm – 3pm Mayo Day celebrations kicks off in the Military Barracks with a concert of live music, song, dancing and traditional Irish music. We3 Events and Mayo North have put together a cast of the best that Mayo has to offer and its completely free for you and your family to enjoy!
Watch the best of Mayo's young talent take to the stage for a wonderful afternoon of musical entertainment! Furtyher information at Mayo on Stage
Purchase your Tickets for Mayo Day concert featuring Ryan Sheridan at Ballina Tourist Office or www.tickets.ie   €12 including Booking Fee.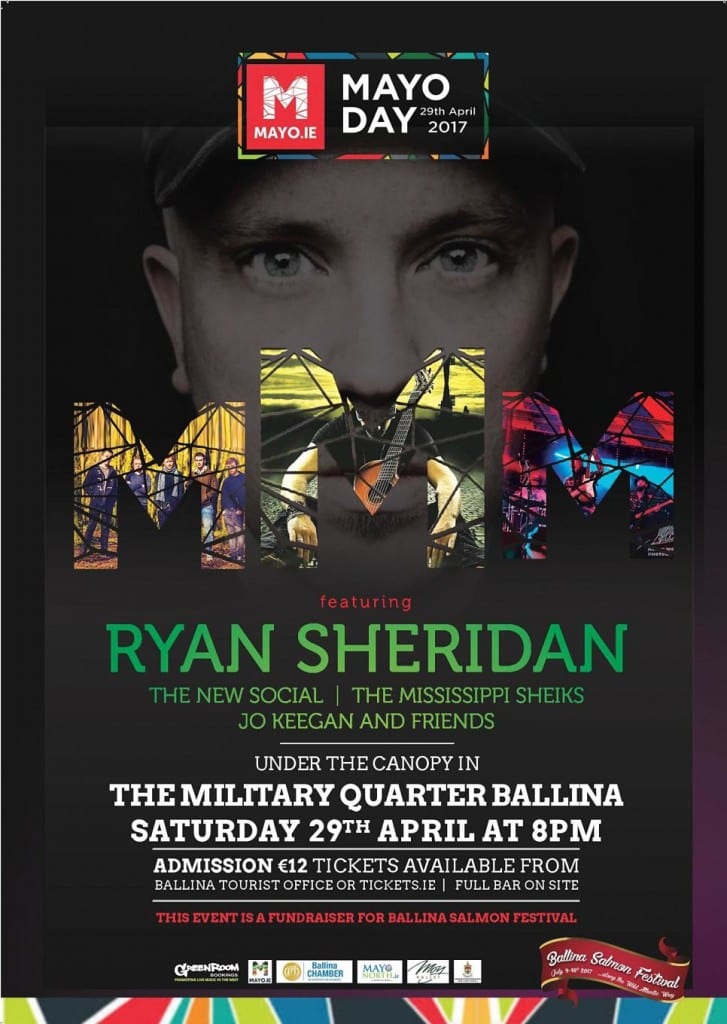 Related Articles
Read more from Uncategorised