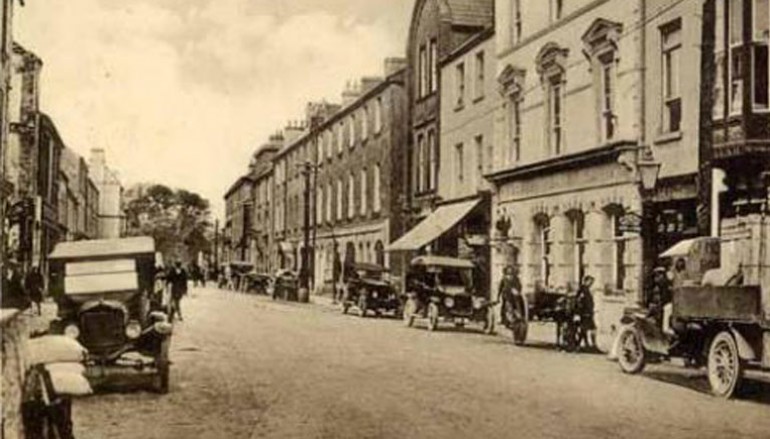 Through Streets Broad and Narrow
Shops of yesteryear a Step back in Time with James Reddiough
The streets in Ardnaree and Ballina as well as the environs had small shops that were family owned and did a brisk trade. They are relics of the past now and there are very few of them today. In modern parlance you might call them SME's or small to medium sized enterprises. They varied in size from mini markets to Grocers and bars type operations and I'm sure that the reader can add to the businesses that are described in this all too brief column.
In Ardnaree you had the Roches Nina and Dermot, indeed Nina passed away recently in her 90th year – they had a small grocers and newsagents, there was Culkins too on the hill and further up towards Healy Terrace there was Jimmy Ralph's shop all nice places when en route home to the Graffy area. Further down there was Abbey Street and in my memory you had Andy Forde's, Bill Kearney's and Eileen Molloy's and Kitty Heffernan's. My mother would remember Cathal Gilmartin who had a bar and shop and travelling shop too. She also remembers Mrs. Lavelle who had a sweet shop and there was Finlan's and Tuffy's. PJ Mulherin had a bar in Abbey Street too.
Over the bridge in Tolan Street or its former name Bridge Street – the street names changed in the 1920's – there was Johnny Forbes bar and mini market where – a modern thing at the time – you could take a basket and select your commodities off the shelves – Tuffy's, McGraths and Moyletts and Fahy's were the same and they were developments from the 1960's and early 1970's. The pub was from an earlier era when the shop and pub were together. How many people remember Noel Diamond's fruit and veg shop and Paul Howleys and Padraig Loftus's Butchers shop and John T. McLoughlin's pharmacy? Mike Healy had the old style bar at the back and the grocer at the front and Mick Howard had a lounge bar. Moira O' Hora had a bar at the top of Tolan Street.
There was in the middle of all that Wellworth's and the Cafolla's restaurant – two places that feature in my childhood memories and my great grandfather loved to eat in The Magnet restaurant in Hill Street. By the way the Caffolla came to Ballina in 1967.  On Bridge Street Annie Clarke had an eating house where she would cook the food bought in Loftus Fish monger's or either Loftus' butchers and serve it along with tea, bread and butter for 1s6d.
Now I go off on a wander thorough streets broad and narrow to Byron's of Tone Street the fine record and music shop dating back to the 1960's – this shop was the agent for Spotlight magazine in the 1960's and early 1970's. Also on Tone Street for the very best in books etc. you had Keohanes book shop. Gallagher's was another mini market on O' Rahilly Street and what about Garvey's bakery left in disuse now and it was one of the finest family run businesses in the town with a café or tea room at the back. Of course Brendan Doherty's was across the road from Garvey's. Annie Lynch had a sweet shop in Ardnaree that my late grandmother remembered fondly and she was a lovely woman she recalled.
On Mercy Road there was a delightful shop and very a very convenient one owned by the Cawley family called interestingly enough The Hole in the Wall. It was a small shop with minerals, sweets and fruit that catered mainly for the district hospital and it was there during the 1970's and early 1980's and the remnants of it are still there.
I could go on but column space does not allow but I hope that there is sufficient material here to prompt readers to record further memories of the shops that were once in the streets of Ballina and Ardnaree.
Related Articles
Read more from Blogs