'ECO EYE' PRESENTER DUNCAN STEWART WILL BE THE SPECIAL GUEST AT AN EXHIBITION HOSTED BY BALLINA CREDIT UNION
Duncan Stewart, probably Ireland's best-known advocate for environmental and conservation issues, and the presenter of television show 'Eco Eye', will be the special guest during the Green Energy and Home Improvement Exhibition in Ballina this October.
Hosted and organised by Ballina Credit Union, the free exhibition on Sunday 13th October will have dozens of stands, with free children's entertainment and prizes to give away.
Chairman of Ballina Credit Union, Pat Diamond said "Information sessions will also take place on topics such as home and business grants, with contributions from the Sustainable Energy Authority of Ireland (SEAI) and Mayo-based Clar ICH, who deliver the Better Energy Scheme."
"We are delighted to have someone of the calibre of Duncan Stewart present, and he will speak briefly and be very happy to answer any questions from members of the public," said Pat.
Duncan is an award-winning architect and television producer/presenter of the 'Eco Eye' environmental documentary TV series, through his company, Earth Horizon Productions Ltd.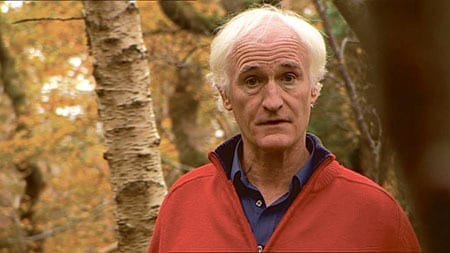 He has been a leading Irish advocate for environmental, health and conservation issues for over 40 years.
Duncan is a pioneer in Ireland and across the EU in areas such as sustainable ecological architecture, the greening of urban spaces and cities, and passive solar design and innovation.
Over the past twenty-five years he has championed solutions to mitigate climate change and has also been a popular television personality in Ireland.
His early shows Our House and About the House leaned on his architectural background, as he promoted the values of quality Irish craftsmanship, along with energy efficiency, sustainable design, ecological building materials and 'zero carbon' buildings.
Duncan's current television series 'Eco Eye', now in its nineteenth year, is driven by his keen interests in the protection of our environment, Ireland's biodiversity, supporting local communities and the communication of climate change issues.
The Ballina Credit Union Green Energy and Home Improvement Exhibition on the second Sunday of October will run in the Great National Hotel, Foxford Road, Ballina from 2p.m. to 6p.m. and admission is free.
Further information is available from [email protected] or from the Facebook Page ballina.creditunion.
Exhibit at Green Energy and Home Improvement Exhibition
Ballina Credit Union is offering you the opportunity to take a stand out at this years Green Energy and Home Improvement Exhibition, organisres of the event states;
"Having a stand as an exhibitor offers you the chance to promote/explain and potentially sell your products to a captive audience. The event is being organised by the Credit Union on a non-profit basis. With large crowds anticipated to attend, the sheeer footfall of people pasing by your stand will prove an excellent method of advertising of your product and service. We urge you to contact the Credit Union as soon as possible if you and your organisation would be interested in having a presence at the exhibition, contact 096 71066 or email [email protected] "
Ballina Credit Union O'Rahilly St Balina Co Mayo
Tel 096 71066 www.ballinacu.ie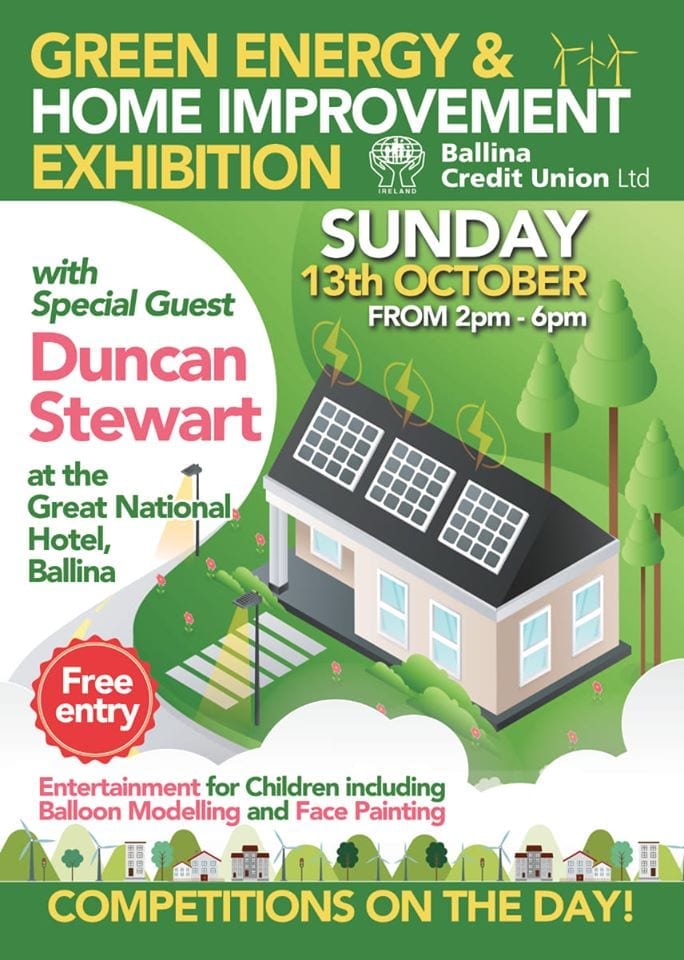 Related Articles
Read more from Uncategorised