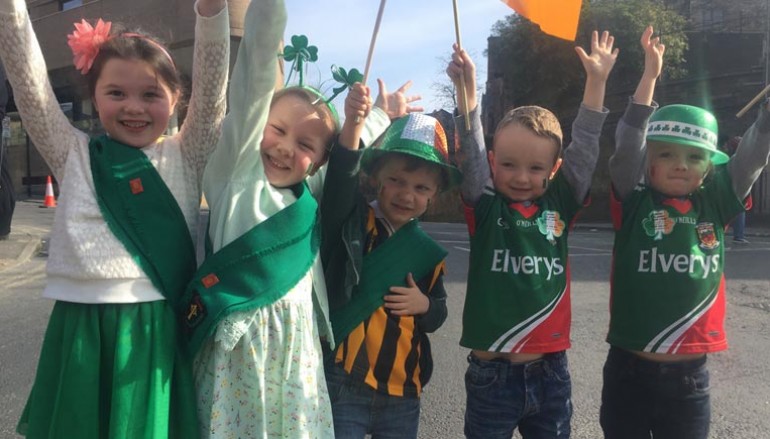 Hands up if you love Ballina in Manchester
The Mayo Diaspora old and new were out in force in Manchester to promote the West of Ireland in the city's annual St Patrick's Day Parade. Pictured getting ready to join the St Patricks Day Parade, holding the Mayo Association of Manchester Banner is Lawrence Hennigan from Attymass one of the Directors of Mayo Manchester and Tom O'Malley from Louisburg the new chair of the Mayo Association and his son Vincent. They were joined by other members of the association and the Manchester Phoenix Pipe band who led them on the two hour parade from the Irish World heritage Centre into Albert Square in the city Centre. Lawrence was joined by his nephew David Hennigan from Manchester Irish TV filmed the event and captured all the highlights of this year's celebration.
When asked about the event Lawrence Hennigan replied "It was a great opportunity to promote Mayo and our forthcoming Mayo Manchester Tradfest which takes place in the summer in Ballina from Friday 29 July to Wednesday 3 August. The Festival is being supported by Failte Ireland, Ballina Chamber of Comerce, Mayo.ie and the Mayo Manchester Business and tourism Group. We are delighted to announce that we have already confirmed the Keegan Academy School of Irish Dancing are joining us and the Fianna Phadraig Pipe Band."
Amongst the visitors to the event were four Mayo fans: Isabella Buckley, Eva Martinelli, Frankie Martinelli, Alexandra Goddard, Jack Goddard who were part of last year's hugely successful Mayo Manchester Tradfest. When asked if they loved Mayo shot their hands up in reply.
For more information about the Mayo Manchester Tradfest and how to get involved visitwww.mayomanchester.com
Related Articles
Read more from News