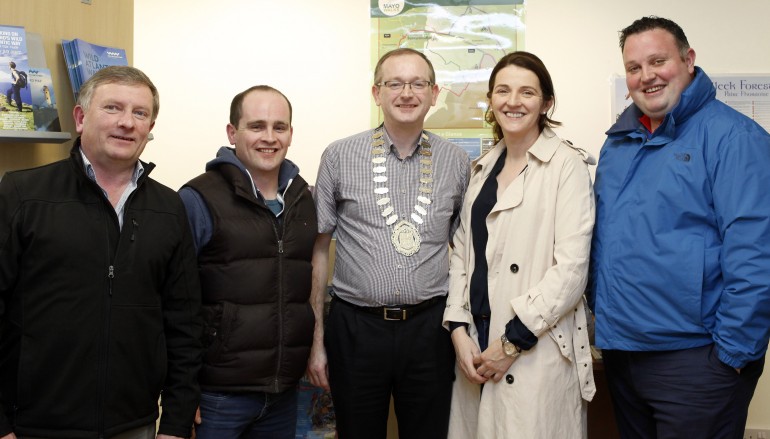 Paul Regan remains on as Chamber President for a second term
Ballina Chamber of Commerce is delighted to announce that Paul Regan current President of Chamber of Commerce will remain as President for a second term in 2017.
Paul Regan is well known in the Ballina Business Community as proprietor of Dillon's Bar and Restaurant and has already spent the last year in the role, also a member of many other board of management committees and community organisations.
Thank you to all who have supported the Chamber in the previous years
"It is an honour to continue in the role as Chamber President aided by my colleagues in the Chamber Council. I have served on the Chamber council for 2 years prior and have always tried to play a part in shaping the future of the Chamber of Commerce and Ballina town, promoting it as a great place to live, work and enjoy. I would like to take this opportunity to thank the Chamber Council for their hard work and dedication during 2016, and the business community who have supported the Chamber in its work. I look forward to another great year ahead working on behalf of the business community."
Paul hopes to emulate the hard work of Past Presidents and continue to develop the relationships with key stakeholders across the West, to grow Chamber membership.   "During this time of uncertainty, after the Brexit vote it is important that we continue to work with our colleagues across the region to create the best environment for business in the West."
As well as Paul remaining on as Chamber President, with Vice President Gerry Luskin (Luskins Bistro) Treasurer Greg Connolly (Ballina Motorcare) and PRO and Mayo Chambers President Brian Hopkins (EzeWarm Floor Heating) also remaining in current positions the Chamber also welcomes Jane O'Hora (Great National Hotel Ballina). Jane comes into the role of Chamber Secretary.
New Chamber council members also include Hugh Rouse, (Rouse Insurance) Anthony Moran (Moran's Shoe Shop), Patrick Hallahan (The Loft Bar), Tom Horkan (Hollister) Edel Sweeney (Ballina Manor Hotel), with established Chamber council members including Rory Quinn (Rory Quinn Jewellers), Peter Loftus (Bourke, Carrigg Loftus Solicitors), Mary Doherty (Bank of Ireland) Peter Timlin (Timlins Drapery), Mary Moyles (The Broken Jug) Kevin Connolly (Connolly Car Sales) Corrine Beattie (Corinne Beattie Photographer) and Steven Hannick (Primary Solutions).
Forthcoming events to look forward to in Ballina include the March Madness and St Patricks Day festival, Easter events and Mayo Day, Food Tourism Networking event, as well as the continued work of lobbying elected members of the Municipal District Council, Teachta Dala and working with Chambers Ireland.
If you would like more information on Ballina Chamber of Commerce please contact its offices 096 72800
Related Articles
Read more from News